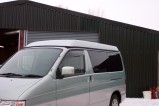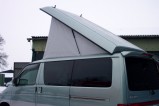 28/11/23: THE FUTURE IS HERE! Why buy an aftermarket roof that is small and narrow when "sky-lift" is here now, LARGER THAN A FACTORY TOP AFT? Choice of 7 roofs including the MUSHROOM built at www.jalimports.co.uk. Sky-Lift is larger than the aft, lighter, colour coded, has HUGE internal walkway front seats to tailgate, ideal for campers. Better mpg, and can SLEEP 2 WITH EASE upstairs and still fit in the garage.
Tel 01386 792946 or 07729 386968 and see the range of ELEVATORS and the latest HARDTOPS with beds and storage.
Also the largest range of "CERTIFIED MILES" Bongos in Europe, we nearly always have 60-90 , 7 days a week.