Select the region or country you require from the list below and you will see displayed a list of Bongo friendly garages in A-Z order by business title. You should note that these garages have paid to advertise on this part of the website but all of them have been recommended by club members. If you want a full list of Bongo friendly garages then you will find this in the "Databases & Downloads " section in the members area.
East Anglia

Outback Autos was established in 1987 by Steve Drewery, after spending 13 years working as a Commercial Vehicle Technician. Six years ago after purchasing a Mazda Bongo for personal use, The owner of Outback Autos Steve Drewery was so impressed by the versatility of the Mazda Bongos – he decided to import the vehicle's from Japan and sell them across the UK. The nation wide response has been impressive and sales and servicing of the Mazda Bongo have soared, so much so that it has become the main stay of the business.
Midlands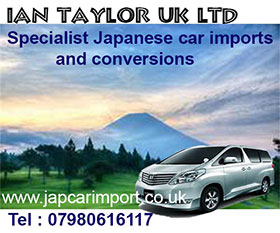 Based in Stoke-on-Trent we have over 10 years experience of selling, converting, servicing and repairing Bongos and other Japanese imports. We can offer the following services: MOT, diagnostics, body repairs, accident damage repairs.
Phone for an appointment on 07980-616117 or visit our website www.japcarimport.co.uk
North West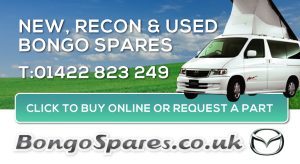 At BongoSpares we offer a friendly service and honest advice. We have a comprehensive catalogue of Mazda Bongo / Ford Freda spare parts, all offered at the lowest prices. Can't find what you're looking for? Call us on 01422 823249 or visit our eBay store. Poorly Bongo? We now have a dedicated Bongo workshop where repairs and services can be carried out.
Website: www.bongospares.co.uk

I offer service and repair for all vehicles and Mot preparation, delivery and collection by arrangement.
Stephen McWhirter is a Mazda Bongo specialist, offering more than just servicing, but hi-top and pop top roof conversions as well as sales, breaking and spares.
07585-304362
www.stephenmcwhirter.co.uk