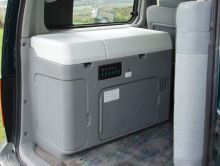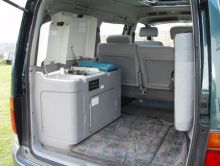 Some Bongos turn up with pre-installed kitchens manufactured by Mazda. These are excellent units and are always found at the rear of the vehicle on the passenger side. They consist of a single ring gas stove, a cool box, a leisure battery and a sink/water tank. A translation of the users manual can be obtained here.
There are two drawbacks with using these units. Firstly, they run from a 110 volt system, so a transformer is required (there is a fact sheet about this in the members area). And secondly, although the parts can be obtained from Japan, they are expensive and difficult to track down.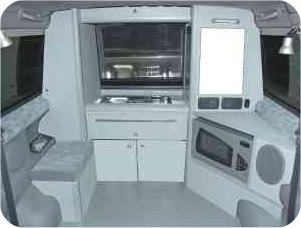 Some people have made it their full time hobby converting their vans in to campers by constructing the units themselves. The above example is from John Cady who did this for his daughter's wedding present.
If you are looking for a Rock'n'Roll bed then visit Wolverhampton based Streamline Auto Beds.
GP Car Sales of Stafford (see their website at www.campervan.uk.com) can supply full conversion kits for your Bongo. Also, many of the items you need for a self-build conversion can be found at www.grassroutesleisure.co.uk.
For those brave enough to go down this route, the Self Build Motorcaravanners Club have a very useful website at www.sbmcc.co.uk.
Southampton based Nort Star Conversions will supply flat packs. See their website at www.northstarconversions.co.uk
Yorkshire Conversions can also supply conversion kits. Their website can be found at http://hightop.mysite.wanadoo-members.co.uk/
Also recommended are West Mids based Shaw Motorhomes. www.smconversions.co.uk or phone 01527 836389