News Archive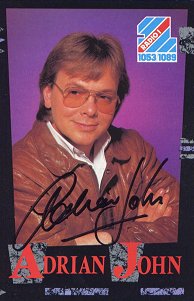 Hello! I'm Adrian John, and although you probably wouldn't believe it for a moment, I actually own a Bongo! Yes, it's true! (Ask Ian!)
Just because you haven't heard from me since 1988 doesn't mean I haven't been busy! Oh no. For a start I have to keep the Bongo archives in order. And also, I have to present my regular show on Saga Radio!
Parp! Parp!
21/12/18: New Factsheet
There are a variety of clamps and clips for the coolant and rear heater systems so we have produced a new Hoselips factsheet for your Christmas reading.
---
17/12/18: V6 Timing Belt
"Cubfoot" from New Zealand has written about his experience changing the cam/timing belt on his V6 and it has been added to the factsheet
---
16/12/18: The Oldest Bongo in the UK……
…and quite possibly the world has been identified. Member Di Drummond of Tunbridge Wells has chassis number SGL3-100008 which she "bought for a pittance" from a neighbour. The History factsheet has been amended.
---
12/12/18: Revisions
There have been amendments to the Climate Control Illumination and Glowplug factsheets
---
06/12/18: Insurance
We would like to welcome Complete Cover to the portfolio of specialist Bongo insurers
---
02/12/18: Heater Problems
Roy748 has a Top Tip.
---
29/11/18: Recovered Bongo
John & Sue Dunne, who had their Bongo stolen last weekend, have been in contact to say it's been recovered in Newport Gwent and a suspect is in custody!
---
28/11/18: 19Q
A new paint code has been added to the Paint factsheet
---
28/11/18: Latest Newsletter
The latest edition of the quarterly club newsletter is now available for download from the members area.
---
---
26/11/18: Stolen Bongo
John & Sue Dunne had their Bongo stolen over the weekend from the Hanham area of Bristol. Please be on the look out for blue over silver vehicle with towbar, registration P182 GTA.
---
21/11/18: New Factsheet
Feeling a bit damp behind the driver seat? Then you need to read the Rear Heater Matrix factsheet
---
21/11/18: Elephant Update
We have now closed our donations page for adopted orphan Bongo The Elephant and the final total was £1,677.50. Thanks to all who contributed.
---
19/11/18: Next Year's Meetings
Prices, venues and booking arrangements for the meetings in March (Thames Valley), April (North Yorkshire & May (Pembrokeshire) have been announced.  See here for more info.
---
18/11/18: Customised Clocks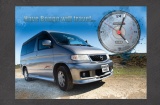 In addition to a Bongo Clock which makes an ideal Christmas gift, Lesley Banks of Knightwood Photo Art can also supply customised clocks based on your own Bongo photos. These measure 38 x 25 cms and are very reasonably prices. Email Lesley for more details.
---
14/11/18: Lakeside
Lakeside Garage, who are Bongo friendly and based in Middlesex have been in touch to inform us that they are nothing to do with www.lakesidecamperconversions.co.uk.
Just so everyone is clear.
---
12/11/18: Old Freda
Johnny Lyons of Northern Ireland has the oldest Ford Freda still running. It was made on June 7th 1995. The History factsheet has been amended.
---
31/10/18: It's Time!
Buy a Bongo Clock before we run out!
---
29/10/18: Still Stuck For Christmas Present Ideas?
What you need is the new Bongo Fury Picnic Set
---
29/10/18: Front Heater Bushes
Tim has sent in an online source to obtain these and we have amended the Heater Repair factsheet .
---
28/10/18: Stuck For Christmas Present Ideas?
What you need is the new Bongo Fury Baseball Cap!
---
22/10/18: Keys
A Derby based mobile auto locksmith has been added to this factsheet .
---
01/10/18: E10 Fuel
No, we don't mean Leyton & Clapton in East London. We mean the new ethanol based fuel that may go on sale on forecourts next year. Will it affect petrol Bongos? It might…..see this RAC article and this Autocar item.
---
01/10/18: LPG
We have added a Leicester based converter to this factsheet . The LEZ factsheet has also had a minor amendment.
---