Update 25/03/20 All Events Cancelled Until Further Notice
What Is National Bongo Day?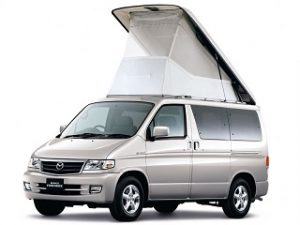 On 8th May 1995 the first Mazda Bongo Friendee rolled off the production line in Japan and we are going to celebrate its 25th anniversary. The weekend of 8th May has been declared a UK public holiday to celebrate VE day, so Sunday 10th is an ideal day for us to get together and raise our glasses to the best camper/MPV still on the road today! We can also celebrate the centenary of the Mazda Motor Corporation.
What we have in mind is this. A series of day-meetings will be held around the UK starting mid-morning and running through to mid-afternoon. There will be no formal agenda; it will be an opportunity for Bongo owners and fans to meet up, socialise and have a good old chat. Children and dogs are very welcome!
This is a joint operation between Bongo Fury and the various Facebook groups. Membership is not required to attend one of the events and everyone attending will receive a souvenir sticker free of charge. No booking is required……just turn up!
Event organisers will also receive a free gift as a sign of Bongo Fury's appreciation.
Interested in attending? Then see the full list of planned events below. Interested in organizing an event? Then see bottom of this page.
---
Where Are The Events Being Held?
Note: Discussions about the various events can be found on the Bongo Fury Forum at https://igmaynard.co.uk/bongo/forum/viewforum.php?f=86 or on the various Facebook Group pages.
---
Gloucestershire Meeting @ Gloucester Services M5 Southbound, Between J12 & J11A, GL4 0DN. 10.00 onwards. Independent service station, farm shop, cafe/deli, large car park, indoor childrens play area, full facilities, dog walking area. Free parking up to 3 hours. Hosted by Robin Deane email robinsmotors@gmail.com.
North East Meeting @ Derwent Reservoir Visitor Centre, Pow Hill Country Park, Edmundbyers, Co Durham DH8 9TT. 10.30 onwards, but if you fancy a convoy along the A1 meet Angel of the North Car Park (NE9 7TY) at 9am. Cafe, toilets, picnic area, play park, country walks. Car parking charge may apply. Hosted by Stuart Coates on behalk of NE Bongo Owners Facebook Group. Contact Stu by email s.coates1@talk21.com or by FB messenger.
Suffolk Meeting @ Dunwich Beach Car Park, Dunwich, Saxmundam IP17 3EN. 10.30 onwards. Dog friendly beach, lots of walking on the heath and the beach, tea room, Ship Inn. Car parking charge may apply. Hosted by John Barlow mobile/Whatsapp 07889-495377.
Cornwall Day Meeting @ Cardinham Woods. Bodmin PL30 4AL. 10 am to 4pm. Go through main car park, over bridge to far side above BBQ area. Cafe, kids play area, toilets, excellent disabled access, long and short walks, and a dog wash! Car parking charge £5 for the day. Hosted by Tim Cockings mobile 07939-649688.
Southern Bongo Group Meeting Meeting @ Royal Victoria Country Park, 8 Ferrymans Quay, Netley, Southampton SO31 5GB. 10 am onwards. Shingle beach, woodland walks, possibly a hog roast! Car parking charge £6 for the day. Hosted by Nicola Martenstyn via the Southern Bongo Group on Facebook, all welcome.
Midlands Anniversary Meeting @ Barton Marina, Barton-under-Needwood, Burton upon Trent DE13 8DZ. 10 am to 3 pm. Great venue with boutique shops, pub and cafe. Large grassy parking area.Free parking but please make a £2 donation to support Burton YMCA. Organised by Russ Cordingley/Midlands Bongo Owners Facebook Group. Mobile 07870-563985.
North Devon Meeting @ Woolacombe Bay (Meet Sandy Burrows Car Park), Beach Road, Woolacombe EX34 7BG. From 10.30 onwards. Long sandy beach, dog friendly areas, full facilities in town. Note that there some Bongo people are staying up the hill at Woolacombe Sands Holiday Park. More information from Terri Udell-Stringer via the Mazda Bongo Owners Facebook Group.
Cheshire/North Wales Meeting @ Grosvenor Garden Centre (Far End of Main Car Park), Wrexham Road, Belgrave, Chester CH4 9EB. From 10.00 onwards. Indoor play area, cafeteria, dogs welcome. More information from Trish trishbrunt@googlemail.com
South Yorkshire/North Derbyshire Area Meeting @ Millhouses Park (Main Car Park), Abbeydale Road South, Sheffield S7 2QQ. From 10.30 until 3.30. Dog walks, skateboard park, kiddies cycle routes, peddalo hire, woodland exploration, adventure playground, cafeteria, dog/child friendly pub with food. Car parking charge approximately 50p per hour. More information contact ian@bongofury.co.uk.
Scotland West Coast Area/Ayrshire Meeting @ Irvine Beach Park (Beach Drive Car Park), Beach Drive, Irvine KA12 8PP. From 10.30 until 3.30. Tea and biscuits on arrival. Dog friendly sandy beach/dunes, boating lake, cafe & toilets nearby, Ship Inn for Sunday lunch. Car parking charge may apply. More information contact Murray on chevrover@googlemail.com
North Yorks Meeting: Bongos on a Budget Not held on National Bongo Day but part of the celebrations nonetheless. Over the weekend of 31 July near Northallerton. Download the pdf file here.
---
Who Can Attend?
Anyone! You don't need to be a member of Bongo Fury or any of the Facebook groups. You don't even need to own a Bongo. All events are free (unless indicated above) and dogs and children are welcome. No need to book…..you just turn up!
---
How To Organize An Event
Identify a Venue
A good location for an event like this is a large public open space with vehicular access. A promenade by a beach is good. Or perhaps a country park or local recreation ground. Even a shopping centre. Pub car parks are a good idea too. Some events were also held on private land. It's difficult to know in advance how many people will attend but assume between 10 and 30 Bongos.
Activities & Refreshments
Although it's not essential, your venue should be child and dog friendly. Is there somewhere nearby to get a cup of tea, a sandwich or a Sunday lunch? Is there something for the kids to do while the adults talk about Bongos? What happens if it rains? And, importantly, is there disabled access?
Geographical Spread
Once you have chosen a potential venue take a few moments to double check that someone hasn't already organized a meeting nearby. The full list can be found above.
Getting Permission
If you are holding a meeting on a public space it is not always necessary to obtain permission. But you should ensure that no obstructions are caused to public rights of way. If you intend holding a meeting in a pub car park or country park or on private land you need to obtain permission from the landowner or manager.
Keeping a Master List
Once you have arranged your meeting you should send the following information to Bongo Fury by email (ian@bongofury.co.uk). We will then post this on the National Bongo Day page on the Bongo Fury website and add it to the forthcoming events on the relevant Facebook group pages. You should send the following information:
Organisers Name & Postal Address
Email Address
Mobile Number
Event Location (full address and postcode)
Start & Finish Times
Brief Description of Event (including any parking/entrance fees & facilties)
Organiser's Pack
We will then send you further information 2 weeks before the event
Any Questions?
Either email us at ian@bongofury.co.uk, send a text or Whatsapp to 07932844321, PM Ian Maynard via Facebook, or phone the office on 0114-2550836.