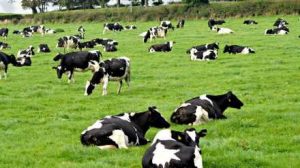 In fact, it wasn't a field full of cows that led to the formation of the club. Rather it was the fact that there were NO cows in the fields at all. Let me explain.
We (myself, Marianne and the dogs) have always been keen campers. Mostly packing our small tent, sleeping bags, walking boots and thermal clothing in the back of our Vauxhall Corsa, ambling around and arriving at campsites in the middle of nowhere. Whether it was the Mendips, Snowdonia, the Lakes, the Dales, the coast, the Isle of Skye……we went all over when we had time off from work.
But in 2001 disaster struck!
An outbreak of Foot and Mouth disease effectively shut down the countryside for a number of months and we were unable to explore or stay in the Great Outdoors. We found other things to keep us occupied but were itching to get back out there.
When the summer of 2002 came round we booked 2 weeks off work, packed the Corsa with our equipment and the dogs, and set off on our way, initially heading for the East Yorkshire coast at Cayton Bay near Scarborough. Where it proceeded to rain. And rain. And rain. Not just at night, but during the day too. We figured it could not last forever so headed inland to Osmotherley near Thirsk. But it did not stop and all our kit was soaking wet. And it is no fun in a small tent with wet dogs.
Anyway, to cut our story short, we headed West and tried camping near Hexham. Then we went to Dent in the Yorkshire Dales. But we never actually got to dry out. It was at Dent that we made the decision: if we were in a campervan, we would be (relatively) dry.
So over that Autumn and Winter we considered our options, and took out a bank loan. The trouble was, the more we looked into it, the more we realised that a decent campervan was WAY out of our price range. Which is when, in the classifieds at the back of one of the Motorhome magazines, we spotted something called a Mazda "Montague" Bongo. WTF, as the youth of today would say…….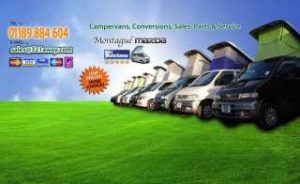 They seemed remarkably cheap. You could get an unconverted low mileage van for about £5,000. Or pay another few grand and get a basic kitchen unit installed. But Wokingham was a fair old distance from where we lived, so we started to make some enquiries. Remember, this was the early days of the internet, and there were few forums, and no information about Mazda Bongos except a basic Wikipedia page and a Japanese owners club. So, we put out a request for information on the Motorhome bulletin board on Yahoo Groups: "Has anyone got any experience of Mazda Bongos?"
Remarkably, within a few days, a message came back from someone called David Elliott. He said he had one if we wanted to come and see it, and what's more he was only about 20 miles away. We jumped at the chance.
David, who was in the process of setting up Wellhouse Leisure, was following in the footsteps of Wade Montague at 321Away, and had started to import Japanese MPVs to convert into campervans. The Ford Freda he showed us had only done 6,500 miles, had 8 seats, was in a distinctive British Racing Green and was ours for a remarkably low price. At the time Wellhouse did not have the facilities to install a kitchen unit, so this work was undertaken by a firm called AVA Leisure near Gatwick Airport.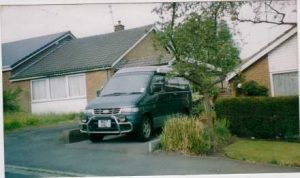 On that fateful day in February 2003 when we went to pick up our pride and joy, Vaughan England, the owner of AVA, asked what I did for a living. I said I was a website designer in a government department. He mentioned in passing that I should set up a website for Mazda Bongos. "Why would I want to do that?" I asked. Vaughan replied "Because they are just about to become popular. Big time!".
And so began an interesting experiment. At the time nobody had a clue about where to get spares. Were there many other owners out there? I designed a basic website, called it "Bongo Fury" after my favourite Fank Zappa album, learnt how to get a website on the front page of the search engines, and waited to see what would happen.
And happen it did, as you will find out in Part 2 of……..Dawn of the Bongonauts!