Peter Hyde is our longest serving club member with a membership number of 7. He lives in Christchurch, New Zealand, which has not been a happy place recently. Late last year we contacted him to ask a few questions about Bongo ownership etc.
1) What made you buy a Ford Freda?
Versatility. We needed a wagon to haul stuff including trailers (so added a towbar) and of course our family of three kids. We also liked the idea of camping in it occasionally also – it's unconverted. We have indeed used it a bit for camping – mainly the kids as they grew up – and have greatly appreciated how many people and/or how much stuff can be transported internally with comfort and relative ease – even without a trailer attached.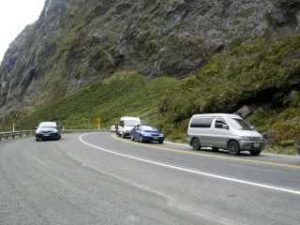 2) What type is it? Do you use it for camping or is it a run-around?
4WD diesel automatic, lifting roof, 1998 – we got it in early 2006. Our primary vehicle is a 2001 Mercedes SLK roadster, we use the van when that won't do – which is somewhat less often now that our kids have all left home. We also loan it to visitors on occasion, most recently to some friends from France.
3) How did you find out about the Bongo Fury club?
Probably a web search – even in the early days, the club had lots of excellent content and of course really helpful forums.
4) Any notable adventures over the years?
A few 🙂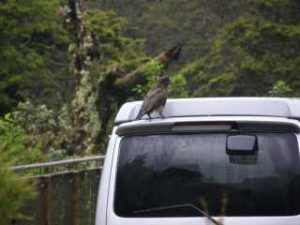 1. Early on I used to take it off-road a bit – after all, it's a 4WD, right? 🙂 The best such trips were twice down the Rainbow station/Molesworth station track in the South Island high country – nice and high and wild in places. But there were a couple of rugged creek crossings, meaning I had to get the steering rack repaired after the second trip. After that, I limited our endeavours to unsealed roads, but not offroad tracks.
2. Soon after the Feb 2011 quake hit Christchurch, we had the misfortune to be forcibly evacuated from our home (for no good reason) late one night. So we piled our most valuable possessions – artwork, ID papers, photos, computer server etc. into the van until it was filled to the gills, and sent the kids and dog walking down the road to our overnight billet. Next morning we did a quick check and found that the cordon the police had established didn't include our place at all! So naturally we drove right back home again. During that period, the van served in good stead several times as a beast of burden – carrying tables and whiteboards down the street to establish a an ad-hoc information post, taking supplies to suburbs in worse condition than ours, or even ferrying a young mother, bike and baby across a stream of raw sewerage that was inadvertently being pumped across the suburb's only access road right after the local power had been reconnected.
3. Kayak & drone transport. A whole new level of usefulness and fun arose after we bought an inflatable tandem sailing kayak in 2012 – a wonderful way to explore NZ's lakes and rivers.
Though the fully packed kayak could (just) fit in the back of any car, with the van we could let just a bit of air out of the kayak, fold it in two and shove it in the back, meaning we could get it up and running really quickly at each new launching point. Plus we could camp out, of course.
When I started flying drones in 2014, the van made a great base of operations for all that kit too.
(Of course, I had thoughts of using the kayak as an aircraft carrier as well – but drones and water really don't mix that well 🙂
4. Otago Rail Trail – this is a great and sometimes spectacular inland cycling route in the South Island – but although it has gentle grades – being a former railway – there are occasional hills, so… When we did the trail with two friends, we used the van to haul people plus three bikes to the top of each descent then rode down to meet the van plus driver at the next pub or cafe. After a bit of essential R&R, swap the driver out with one of the cyclists, rinse and repeat. That's the civilised way to do it 🙂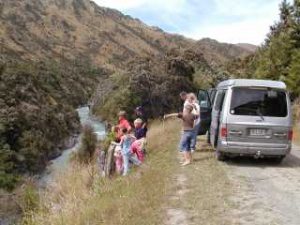 5. Not our van at all, but a direct consequence of Bongo Fury. Back in 2010 I used the forums to offer a van swap with someone willing in the UK – we'd go and borrow their Bongo, they'd come and borrow our van. In the end, it was a one-way swap, with Chris from Huddersfield picking us total strangers up from a random bus-stop and handing me the keys to his precious Bongo (his wife said he wouldn't even let her drive it!). The trip north into Scotland was excellent of course – apart from the bit where I carelessly left the fuel cap behind at our first stop. Even better, on our return, Chris offered to drive us to Wales, where we were meeting friends for a canal boat trip.
Unforgettable kindness.
As you'd expect, we've truly benefited from the Freda, which is why we are loathe to move on from it, even though it's now a tad old and tired. The best investment I made for it was the Waeco cruise control – it was already a comfortable long-distance drive and that made things even better on long, straight South Island roads. I still do the occasional mod like converting internal lights to LED, adding a solar panel trickle charger and so on – but mostly I just use it.
5) Current state of vehicle? How long do you think you can keeop it going?
Currently it's mildly banged about – it's not worth fixing cosmetic stuff now – and has definitely shown signs of its age in recent years. For example, it required a new radiator and cylinder head in the past couple of years. We figured it was still worth the reinvestment, given that we still use it regularly enough, and know its capabilities and quirks.
6) Photos? (Action shots?)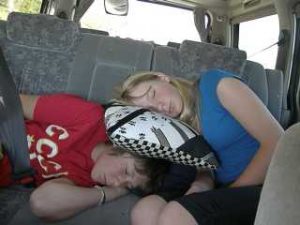 Heh. You're lucky that I have a filing system of sorts – in our travels we take tens of thousands of photos a year, including more than a few FROM the van on our many road trips to wonderful NZ scenic spots and activities. But almost none OF the van since the early days. FWIW, some such are attached.