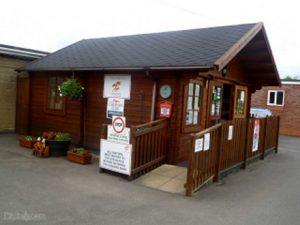 During the hot, hot summer of 2018 we thought we would try something different. Usually our monthly meetings, especially the annual Summer Camp, involve loafing about and having a quiet time. But not this year! This year we had…….A Day At The Races!
The Jockey Club own Market Rasen Racecourse and its associated campsite. About 25 Bongos pitched up during the first weekend in August for an action packed weekend that would culminate in Sunday National Hunt racing. Here's a pictorial record of the highlights.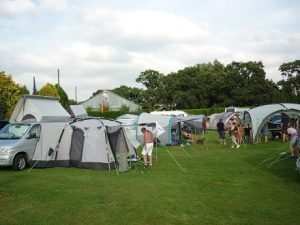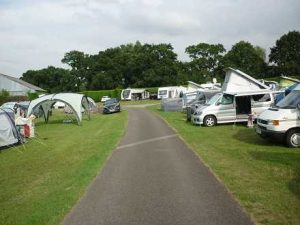 As always there was someone on hand just in case things went wrong, although it was nothing serious this time.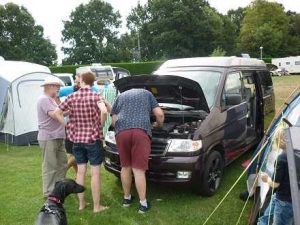 On Friday some of us took the 20 minute walk in to town. Market Rasen is a small but interesting place with Georgian shops and pubs.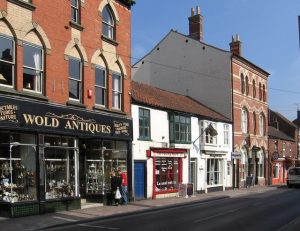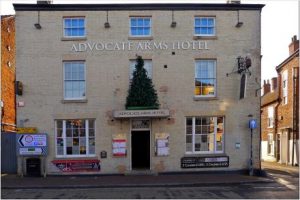 The campsite wardens, Dee and Joolz were kind enough to order a curry night at the local Golf Club and most of us (with dogs) went down there on Friday night. During our stay Dee and Joolz couldn't do enough to help us. They ensured we had a fantastic weekend. But more about them in a while.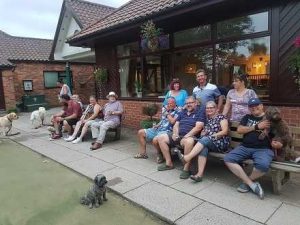 On Saturday we were treated to a "behind-the-scenes" tour of the race course itself.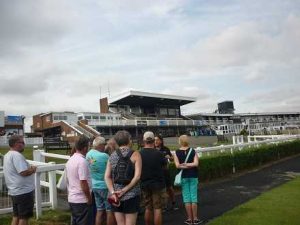 I don't think any of us realised how much emphasis there is on equine safety.
Then on Saturday night we had a right treat. Everyone brought some food along to our evening social and after we stuffed ourselves Joolz provided us with entertainment which led to a spontaneous outbreak of dancing by Dee and others (sort of). And The Bongomaster made a presentation to the happy couple who were getting married the following weekend!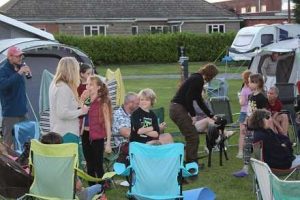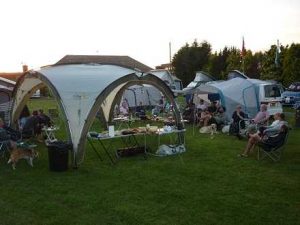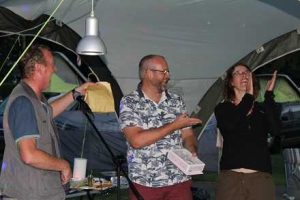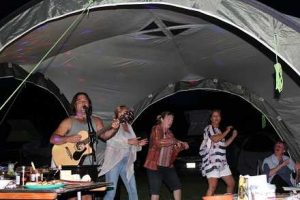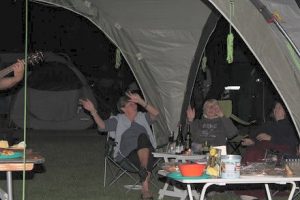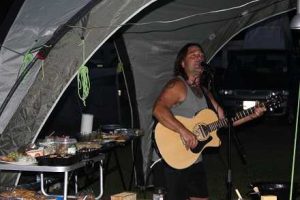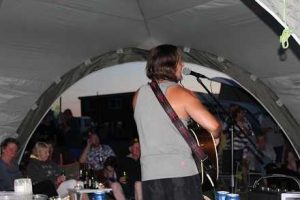 However some people were more interested in looking at Sunday's runners and riders on their Racing Post apps.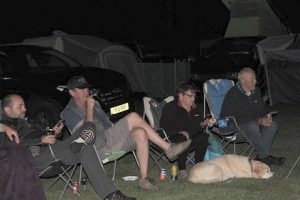 On Sunday, it was time to go to the races. It was blisteringly hot, we all had a great time, and a few of us even went back to the campsite afterwards showing a small profit!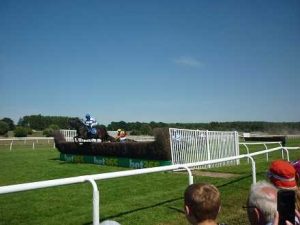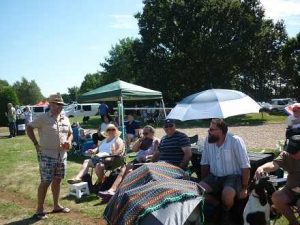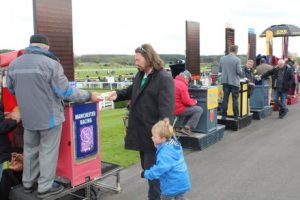 It was such a fantastic weekend we will be back again next year. But, Dee and Joolz, if you are reading this, see if you can do something about this guy!