This first ever Bongo Tale was received from Terry Shorthouse.
"Kitchen sink's aboard we're off on our first expedition; destination – Ireland.
Bit apprehensive only had Freda for a couple of months, just a few small outings to judge her by, impressive as they were we did experience the fan belt thing.
Headed out from deepest South Wales to Manchester joined forces with other family members and headed back to God's country to the Holyhead Ferry, "We are sailing- We are Sail… " this is a bit rough, (the sea, not the singing) and why is that sea king Helicopter following us.
Dublin City, the " Emerald Isles", Freda fits in – she's green, even some off the passengers tried to fit in they all got off the ship looking a nice shade of green as well. (sorry my accent is slipping into my writing)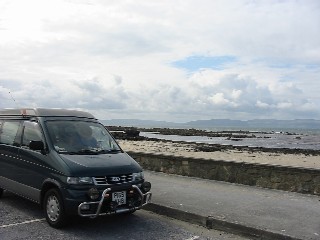 Mulingar first stop, almost the centre of the island, no time to dilly dally, all Wedding arrangements have to be sussed out, and I must get into Guinness training before Saturday, I wonder if three days is enough, I have been informed however and it did surprise me, "today only 50% of the Irish population drink Guinness", apparently the other 50% drink it tomorrow.
Wedding done and dusted, Monday, 7 adults + 1 child, first full seating load for Freda, were off for the Dublin tour.
Wish we hadn't come, some horrible Irish git smashed passenger door window to steal what must have looked like an Mp3 player, but was infact a camera battery charger, like I said to the two Garda (Irish cops) who happened to arrive at the scene, " must have been Irish the stupid git left all the leads behind ", Funny they've got no sense of humour either."
(Sorry to butt in on your narrative, Terry, but I have contacted Shaw Taylor at Police 5 and he is very interested in what you have to say.- ed)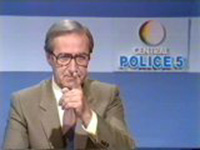 "Were you in Dublin in mid June? If so, the Dublin Gardae would be interested in hearing from you if you saw anyone looking like this…."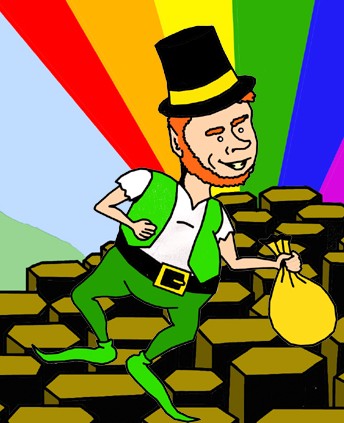 Anyway, back to Terry's tale...
Door fixed with a shaped piece of Perspex and all things forgiven Shirl, Freda and me head off into the blue green yonder.
Another first on the horizon as we decided on a sleep out in the Bongo, arriving rather late we were unable to watch the "Sun on Galway Bay" but we managed to find a camp site, after our second robbery of the week (17 Euros including two brass cheques for showers) Shirl and I settle down for what turned out to be a comfortable nights sleep, however this fact didn't stop us putting mattresses on our wish list.
West by north west, "Quiet man country" and the Bogmen, stunning views, good fun, toured all round Lough Corrib and beyond, back to the west coast to discover a place called Fanore, a short grubber kick onto golden sands, the Atlantic surf with views of the Arran Isles, Irish heaven and the man charged 10 euros including showers, fanbloodytastic.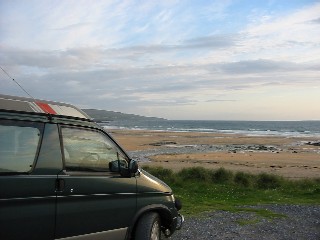 Freda proved to be the right choice in many ways, so much so we have started to collect the rest of the camping trappings, we should be full Gypsy by the Anoraks day out, that's done it back to Gods country.