A Cautionery Tale by "CB"
The long and short of it is that we researched and then bought a Bongo in June 2011. We were coming to the UK from Australia for 3 months, needed a campervan, and a Bongo looked like the best option for us. We found one through a dealer (who wasn't a Bongo specialist as we were to find to our cost), paid 8k, got a guaranteed buy-back price for 3 months later of £5,700. We insured it through Down Under Insurance on a specialist tourist campervan policy.
We bought it as in good condition. Turns out we should have got an AA check, because it may not have been roadworthy at time of purchase. 5 weeks later we suffered a blow out at 100kms an hour on the M4 at 5pm on a Friday – one of the tyres had not been replaced with the others. We were super lucky, my hubby managed to steer us into a crash barrier after we tipped over. Our 4 and 6 year old children were blessedly unharmed, and we walked away from the crash with minor scrapes.
The cop on the scene of our crash told us the rear tyre was almost bald in the inside edge, and receipts in the big file of paperwork we were given seem to indicate one of the rear tyres was replaced but not the other, to get it through the last MOT.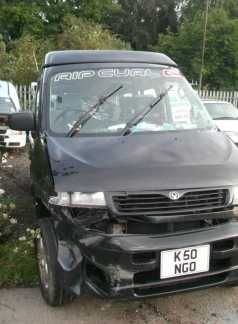 The van was totalled, the chassis was buckled and most of the glass broken. There was damage to the crash barrier, and the M4 was closed for a short time for cleanup = insurance $$$!!
And then the 'fun' started. We phoned the insurance company and put in a claim. They were closed because of the London riots….. After that, they called us back to say the policy was not in our name and threfore invalid – because the sale was so recent, the Highways Agency had called the previous ownners insurance by mistake…
After a week or two they finally agreed that we had paid our premium and we were dealing with the correct insurance company. Brokers and agents be damned, it's the underwriter who has word of God!
And so we spent the last 7 weeks of our once in a lifetime European trip hiring a car, not knowing if we were going to get any $ back or not. The company didn't listen when we said 'please contact us by email, because we will be travelling in Europe', they sent us letters to our UK parents' address.

By the time we left the UK in Sept 2011 we were despairing of getting any money at all. By Nov 2011 we had been offered £3,700, the price of a Mazda MPV without campervan conversion. We said no.

By Xmas 2011 we had had to send adverts to the underwriter to 'prove' value – because guess what – Bongos aren't in Glass's guide…,. We were offered £5,700 , we said no.

Jan 2012 we were offered £6,700 as a last offer. We said no, and responded with info from the UK Financial Services Ombudsman that say that, unless there are extenuating circumstances which the insurer has to prove, purchase price is market value in very recently bought vehicles. We said we would make a formal complaint thru the Ombudsman.

April 2012 – guess what – we suddenly get paid, 8k minus excess. Hallelujah!

To this date the insurer has not formally apologised that it took us 7 months and endless calls and email from the other side of the planet to establish a decent market value for the vehicle. They clearly had NO idea about the Bongo market, the seasonal campervan market or indeed what constitutes a converted van vs a car. And yet the underwriter claimed to be a specialist.
We're cross because the dealer sold us a short term car with a major fault. But I'm mostly cross as I had to do the underwriters' job in proving how much my vehicle was worth. I understand that agreed value policies are much less common (very very rare) in the UK, but surely as a specialist item the Bongo desrves decent treatment!
So stay wary kids, and don't trust insurance!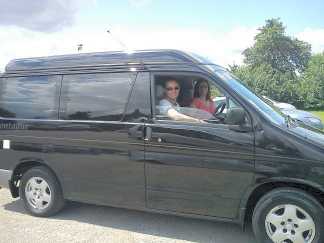 Yours, missing my bongo
CB