It was 10 am on the Friday morning and my desk had been cleared (palmed off onto others)……
We had loaded the van the night before, bikes on the back and surf board strapped straight to the roof with "Rok" straps, that hooked under the elevating lip of the roof. This meant that we could elevate the roof without removing my 9'10" longboard!. The bikes were mounted on the tow bar, over a backplate, and then padlocked on to the plate. The bikes were secured to the bike rack by means of a very heavy "everything Proof" bike lock…… (I think is was made for Harleys!)
By the time I had collected Sally from work and picked up our pack-up-smoking patches for the 2 weeks, we got away at about 11:15, arriving in Dover at 13:20. Sally drove the first stage as I had opted to do the first bit of cackhanded driving. P&O changed our ticket from the 21:15 crossing to the 14:30 crossing… we stood a good chance of getting to Sally's brothers in Burgundy by midnight… both of us had been told some very scarry stories about people being attacked in Aires so the last thing we wanted to do was get forced into stopping over in one of those….
We arrived at Ian & Theresa's at about 01:00 and promptly sank a welcome glass of wine and went to bed… 987 km from Clacton…. That was our first experience of France on our own…. We had not booked any camp sites or realy planned the holiday in much detail at all, all we new was that we were going alone, with very little French Language knowledge (but we knew enough words to be polite even if it meant "Pump 4 Silvouplay" gestering with four fingers raised)…. Ian and Theresa Lived in Burgundy, Frank and Danny lived in Gers, and I wanted to do some surfing on the west coast at St Giles. That was it… our plan.
Having completed the Autun tourist bit, and had a cycle out on the first and only rainy day we had, we decided to make a move on the Monday. I had taken a close look at the map and seen some grey bits sort en-route!… it was the Auverne, our first sighting of proper mountains!… we camped at a municipal site in a village. It was more than adequate for us and as other municipal sites proved they were to be the best option for the whole trip. We realised we were camping at about 1000m… probably higher than you can walk in GB, right by a river, and I am guessing that the altitude we were at was the reason we had no gnats that night.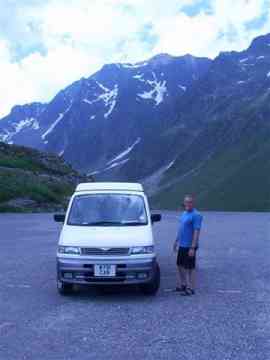 We headed from there south through some spectacular scenery, changing all the time as we came out of the mountains and onto the plateau of Gers. Our friends Frank & Danny (old VW bay window folks) lived right in the south of the Gers region 2.5km from the Pyrenees region and 20km from the foot hills. Because of the heat haze we were unable to see the mountain range from their garden… but I believed him…. Along with the fairies!!!! We are flying back in November just so he can prove that we can see them from his garden.
We headed up the mountains, via Linamazan, and up through the National Park. We tried taking the little road into the Park…. But it turned out to be a small village in a cul-de-sac, with a tiny turn round road which went up at about 30 plus degrees and turned sharper than any hairpin I have ever seen…. But from a standing start, 4 up plus 3 dogs we went round… and….up!… I dare not look back as I think I must have moved half the nice new tarmac that laid there.
From here we went back to the main road, and then up … and up…, and up.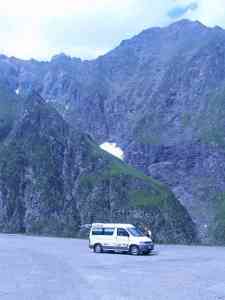 We turned off just before the entrance to the tunnel into Spain, and found a Ski resort with a massive car park next to a huge gorge… we were above the tree line… why don't trees grow here… well I don't know other than the lack of oxygen! We were also at the altitude that meant we had snow still below us… but with or without snow… WOW!!!! WOW!!! WOW!!!… and this pair have this on their door step (and can see it from their garden, allegedly!). The temperature up there was about 22-25 deg, comfortable in a tee shirt until the sun went in and then it got cold very quickly, well there was snow!…. when we decended (Auto box in hold…. In 1st gear for the first part of the decent) and returned to their house, it was 6 in the evening and 36 degrees in the shade….
After much supping of falling down water and a great time we headed off on the Friday morning dropping Dannie off at Pau airport to go back to the UK for her brothers little one's christening! Then on via Bauduax on the motorways up to St Giles Croix du Vile… it is just North of where Ellen McArther set off for her Vendee Globe challenge. About seven miles of sand, gentle waves striking the long beach normally perfect for my "barge" of a surfboard… but you would have needed a 20 ft board and to weigh about 6 stone! It was flat as a pancake on a flat pancake day… for all the days we were there.
So after slobbing and enjoying the night life there, oh and wearing our crotches out on our bike saddles…. We moved onto the Loire Valley….. stunning… especially when you get lost and find yourself driving up gated roads…. Gated by the military, it was a rifle range…. Luckily they we either really bad shots or at lunch!.. but we found a lovely municiple camp site just near the river, and we took a stroll into the village.
Next day up to Dieppe and stopped at the next point we came across in our campsite book, lovely sea views, well it would have been had we got there early enough, but we were stuck behind the log cabin they call reception… we should have gone with our instincts and and stayed with the 20 or so campers on the edge of the beach. We had an interesting night having had to release the front strap to raise the roof ( Rok strap horror story!, will let you know if I don't get a suitable response from them) the wind got up at about 2 am, and the board had to be secured quickly… trying to clear the top bunk of all our clothes and general "stuff" we chuck up there when we stop, and the close the roof down quietly…. Ahem… beeep beeep beeep!.. ahem!!!!!
It was now Friday the last night of our holiday was approaching, and for some reason we wanted a big campsite near Calais. So we could swim drink and eat without going too far….. so after being turned away from the beach fronted campsites between Calais and Dunkirk, we headed back west through to some of the real WWII areas and again we were turned away… all too full…. So we went back to Sangatt and found the best campsite we have ever been on…. It was a muniiciple site, but the pitches were surrounded by 10ft hedges and they were huge…. Good showers and a restaurant or too just outside the campsite…. And then at about 20:00 hrs the local Marie started a Disco outside the back of the town hall…. Fantastic… it was beater than listening to the ferries coming and going just the other side of the sand dunes….
After trying to spend the day in Calais, and being completely embarrassed, by some gang of drunk English idiots, we called it quite and went shopping, topped up the tank and headed for the port and then home….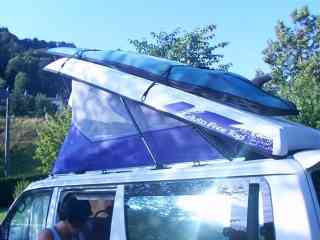 4000km, and the surf board only came off the roof because the Rok strap frayed, beyond my comfort zone….