Last August myself, wifey Mandy & two Cairn terriers, Alice & Archie, set off from our house in Romiley, nr. Stockport, Cheshire & headed down to Ipplepen, betwixt Newton Abbot & Totnes, Devon. We stopped at a brilliant touring site called "Ross Park" which has ex. pitches & facilities, orchard, nature walks & the best dog walk EVER. (I think it was once a 9 hole golf course). Totally fenced & secure and even had a dog shower & drying room! (Details here)
Our trip to Devon was coupled with a visit to see our youngest son, Jamie, who is serving in the Royal Navy on HMS Northumberland, which was currently 'along-side' at Devonport naval base,Plymouth.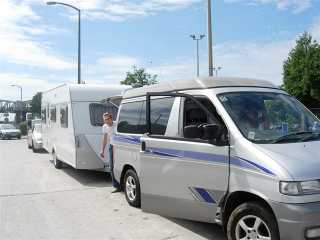 (This pic. of Bongo, caravan & me was taken outside the gate at the base)
Jamie took us on an fascinating tour of his ship, whilst Archie & Al caught up on their sleep in the Bongo. After 5 days we headed down to deepest Cornwall & stopped (couldn't go much further) at Caravan club site at Sennen Cove,for 5 more blustery days & nights.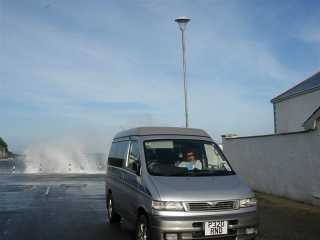 One day we stopped at Hale for a traditional Bongo Sunday lunch (beach car park, Lid up, kettle on). No sun,though! I was in charge of the soup, Mandy was reading the map (a bit late now we had stopped!). Alice was snoozing, but sniffing the air as well and Archie had surreptitiously devoured our sandwhiches. He gave his little game away when he started crunching on an iPod earpiece for desert! The only safe haven was up in the roof (now known as the Bongo Dog-House).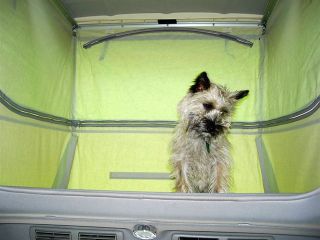 It took us a whole 2 minutes to forgive him & in no time we were dashing through the sand dunes & the showers for an after dinner run (walking is Not an option).
We did have a fantastic trip & are planning more this year (2 down already), hoping for a scorching summer.

Yours Mark & Mandy Savage + trainee Bongonaut Cairns: Alice-Mother (Good dog) Archie-Son (Not so Good dog)