It was going to be a jaunt through the Black Forest to the French Alps: sun, scenery and a trouble-free journey. (Not like last year, when the Bongo very noisily lost an exhaust manifold stud. In a remote part of the Massif Central. On a Sunday, of course). And so it proved, apart from the 'sun' bit. The weather gods had evidently tied a depression to my aerial, for a practical joke.
But there were a few snippets which I'd like to share with fellow Bongoers.
Dover: 4 Bongos seen.
International Playboy: If you travel across the bottom edge of Luxembourg, you can go through 4 countries (Belgium, France, Luxembourg and Germany) in about 25 minutes.
Heidelberg: Worth a visit, it probably doesn't rain there all the time.
Rothenburg: Immaculately preserved/restored medieval walled town. Definitely worth a detour.
Titisee: Splendidly-named lake in the Black Forest. It was actually mostly warm and sunny while we were there. Nice lakeside campsite, reasonably priced.
Lake Annecy: Nice lakeside campsite, giving excellent views of cloud and rain. The old part of Annecy itself is however very picturesque, even when wet.

Aurec (near St Etienne): Fled here to escape rain. Highly scenic but very un-touristy. Went several days without seeing a single British vehicle. Campsite on banks of Loire, which runs through rugged gorges hereabouts. Site noticeboard instructs "In case of fire, warm the campsite management …"!
More Bongo Sightings: At a safari park near Annonay.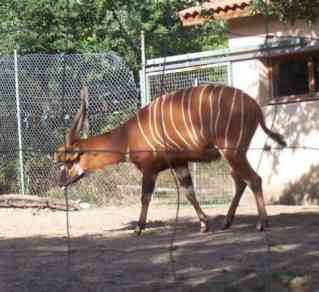 Sorry, Ian, I was unable to read their registration numbers.
Gray: Potentially nice town but undoubtedly run-down. Enlivened by visit to restaurant which included, in its English language menu:
Paving Stone of Sandre to the Cider Butter
The Net Ox to Morels
Carp Crackling
Ox paving stone sauce Bearnaise
The Believed Ham of County
The Ham Section of Bets
The Ox Flap has Shallot
The Camembert cheeses or freezes it two balls

Laon: Spectacular hilltop town, with massive cathedral completed in 1225. For many centuries, Laon was actually the capital of France until, reportedly, it failed in its bid to host the 992 Olympics. Incidentally, on the campsite pitch opposite ours was an unusual motorcaravan conversion on a Mazda E2200.
Silly Names: Just time to stop off at a couple of villages in northern France. The one at the top of this page sums up what being a Coventry supporter is all about. Those who don't want to live in Misery can move a few miles to Y. The Bongomaster is particularly keen for members to make such a move, to reduce the length of his address list. Either that or he'll have to replace the ribbon on his pre-war Olympia tripewriter.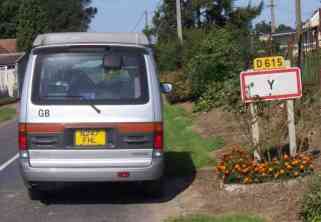 Note that, by this stage, I had mastered the knack of driving on the wrong side of the road.
Importance of a good Navigator: While in Germany, I innocently asked my navigator "We're on the D523: is that OK?". "Yes, it just goes to a different place" came the reply. I make no comment on the fact that the navigator was female. And, for all I know, may still be found standing at the side of the D523 …
Boulogne: Returned to brilliant sunshine – by far the hottest day of the holiday. 3 Bongos at the port. We're definitely taking over the world.
Overall, about 2500 miles. The Bongo performed faultlessly and achieved 24.8 mpg – not bad considering it included some fairly stiff climbs.