Let me tell you about my in-van entertainment. Fitted by Style Ice of Exeter, my beautiful '97 Freda now boasts a PS2 slung under the dsah in the passenger footwell, a roof-mounted flip down 10″ Veba TFT screen, a dash-mounted Pioneer DEH-P3500MP D4Q CD/radio/amp, two infra-red PS2 remote consoles, 2 pairs of infra-red headphones, a DVD remote control and a TV screen remote control.
This little lot came to approx £1300, but it's the dog's spherical objects. I originally approached Style Ice with the intention of fitting a DVD player, but they talked me into the PS2 as it costs approx the same and, of course, you can play games on it as well as watching movies. The bloke said I wouldn't hear a peep out of Genghis and Boadicea after it was installed, and he was right.
They love it so much, they even sit out on the drive playing it in preference to playing the one fitted in doors! And the Mrs is impressed with the movie viewing option, so I'm actually out of the dog house albeit temporarily.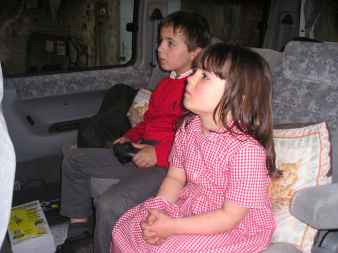 I had my doubts about the PS2 in the first instance; after all, it isn't purpose designed for use on the move and I anticipated that it would jump around all over the place. But Style Ice advised me that PS2 is a very good sealed unit and, again, they were right. No worries in that department.
The headphones are handy, too, because it means me and the boss don't have to listen to the kids entertainment whilst on the move. Indeed, because the CD player was fitted in addition to the PS2, we can listen to a CD whilst the monsters are watching a movie or playing a game.
But the kit really comes into it's own when you put the PS2 through the CD player as an amp. With four speakers, you get a genuine surround-sound cinema style soundtrack. Leave the engine running whilst you're playing a game or watching a movie and, boy, you actually feel the car chases and rocket launches as well as seeing them. Excellent.
But what if you're at the camp site, engine off? Won't it drain the old battery. Well, I've watched a 2.5 hour movie 'sans' ignition on and had no problem starting up the next day…wouldn't want to risk much longer, though.
So, what can I say in conclusion. . . get yourself a traveller tunnel drive-away awning, call Style Ice on 0800 7836869 or visit their site www.style-ice.co.uk and get the kit fitted, and you need never go home again. Attached photos don't do it justice, but it's all I've had time for thus far. Maybe I'll make it up the the bash after next, and any comers can have a look for themselves.