In 2001 Pete and Ursula ("Ushi") McAleavey bought a Talbot Express camper van ( having retired a few years earlier) and spent their time touring around the U.K. on two or three weeks trips, and a trip to Germany. Pete explains what happened next…….
"In 2006 we decided that we needed a bit more comfort and a tow vehicle that could be used for days out with some of the campervan facillites,ie portapoti / cooking etc. A search through the camping magazines steered us towards a Bongo, and after a visit to Outback Autos ( Steve ) not too far away we found what we were looking for, a 96 2 wd autofree top with split rear seats white over silver. We were very happy! And next, we decided to get a good caravan. Our conclusion; an Eriba Puck L.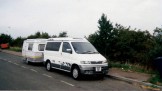 So we were even more happy and carried on with the same routine, two to three week trips etc. But in September 2010 whilst on trip my dear lady develops her medical problems, and we had to sell Eriba. But no way were we going to sell the Bongo, actually nothing really could replace it, but there was need to get my wife in /out safely and easily.
A search on the web took me to the Autoadapt web site, and I contacted our nearest supplier in Norfolk.They came, I bought, they fitted, we paid, we're happy! So good old Bongo, it carries on in another type of role. Here's some photos of the adaptions."