Ex-Royal Navy pilot and airline captain Alun Thomas rode his restored 1960 Royal Enfield from Southampton to the Isle of Man, and then around the TT circuit.
Using a Bongo as a support vehicle, and supported by Bongo members, his object was to raise funds for the Cancer & Leukaemia in Childhood (CLIC) charity.
This is his story.
Captain Constellation's Challenge!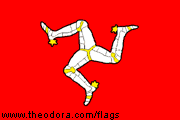 I depressed the tickler for the customary count of three, set the mixture slightly rich, and gave the kickstart a long, positive bootful. 700 cubic centimetres of raw power burst into life. I looked about me, checking that the other machines had all started, primed my chain lubricator, and we moved off in line behind Lead Marshall Harry Cardy's Thunderbird, down Government House drive. It was 1030. Turning right into Governor's Road, we crossed the two mini-roundabouts into Glencrutchery Road, passing the legendary pit lane, start line and grandstand, to stop briefly at the traffic signals at the top of Bray Hill, then off again at a comfortable 35-40 mph. Rea Men are doing over 160 at the foot of Bray, but we were just out for a gentle canter and our bikes were up to 57 years old. Best not push them too hard-and there is a speed limit on non-race days!
It was the 12th May, a couple of weeks before the TT races began, but preparations were well in hand, kerbstones being painted black and white, crash pads fitted to stone walls and lamp-posts. It wasn't hard to follow the course despite the traffic and the euphoria of finally realising the dream of riding a motorcycle around the Isle of Man TT Circuit. The sun blazed down, the haze shimmered, the 500 Bullet in front of me thumped authoritatively. My Constellation rumbled along at scarcely more than idling revs. What an absolutely cracking day!

My journey to the Isle of Man really began back in March 2005 when my grandson was diagnosed with a cancerous tumour. He was just four and a half years old. The diagnosis was sudden and devastating. He and his family live in Cornwall, twenty-five miles from the nearest hospital. His surgery was carried out in London and his radiotherapy in Bristol. Chemotherapy was at both Bristol and Truro Hospitals. For the six week duration of his daily radiotherapy, the family was accommodated, in Bristol, at CLIC House, which provides bedrooms and shared kitchen, laundry, playroom, garden and lounge, for up to fourteen families, within walking distance of the hospital. At home, a CLIC nurse supported the family and counselled his school friends. Similar facilities are available at many paediatric units throughout the U.K.
In October, my grandson completed the aggressive treatment needed to prevent the tumour spreading, and he continues to be screened regularly. The results so far have been "all clear" and we hope fervently he will continue in remission. We have the greatest admiration for all the many hospital staff and their efforts to improve his health, but greater still is our admiration for his parents, who have worked so hard to maintain a normal way of life for their children whilst the treatment continued. CLIC Sargent has made a huge contribution to this, and in August last year my wife, Sue, and I decided to launch "Captain Constellation's Challenge" to raise both public awareness and money for CLIC Sargent.
I'm an airline pilot with BA Connect, based at Southampton, but as a classic motorcycle enthusiast I have long wanted to ride one of my Royal Enfield machines around the TT circuit, and Sue and I conceived my "alter ego", Captain Constellation, to undertake the Epic Ride from Southampton to the Isle of Man, and around the TT circuit, on my self-restored Constellation. Generally, my main interest has been in repair and restoration. I confess that I do not find riding in modern traffic much fun, so, apart from rallies and the odd blast around the lanes of Hampshire, a longish journey such as this was an unprecedented-and somewhat daunting-task!
Most of our spare time during the winter was taken up with various fundraising activities as well as fitting a tow hook to our Mazda Bongo support vehicle, procuring a suitable trailer and, of course, the many hours of painstaking route planning that would ensure that navigational errors did not delay our progress. We decided to trailer the Constellation home after the ride (quit while you're ahead!) and so it seemed a good idea to take along a spare machine. My Meteor Minor was selected for this role and an excellent Erde three-bike trailer was lent to us, free of charge, by Gordon Bevis, proprietor of Spike Island Motorcycles in Eastleigh.
I set off from home at 0900 on Monday 8th May, initially to stop off at A&A Motorcycles by way of a courtesy call, then to rendezvous with Sue, who had left a little later in the Bongo, at a convenient lay-by on the A36 at Landford. We then set off in a loose convoy over our prepared route to our campsite at Cowslip Green, near Bristol. Light rain was falling intermittently, the roads were damp most of the way, but my abiding impression is of an almost universal smell of diesel, of which there was considerable evidence on the road surface, especially around Salisbury. We had each written brief driving instructions, but had spent so long planning the route that we hardly needed to refer to them on the way, even though it was somewhat indirect.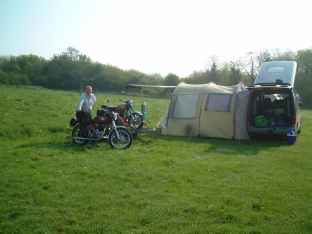 On arrival at Brook Lodge Farm campsite 93 miles had been recorded on the Constellation's odometer. We were able to set up our awning in dry conditions, the rain having stopped, but the forecast indicated that more rain would fall later, and so it proved. Having secured the trailer and awning, Sue and I set off into Bristol, with Constellation and Bongo, to thank the staff at CLIC House for their assistance and care of our family. It was then that the heavens opened! By the time we reached CLIC House, I was virtually saturated, despite my shiny new Akito gear, and on arriving at CLIC House I discovered that all my lights had failed apart from the brake light. Fortunately, the rain eased off, and after a cup of coffee and a pleasant renewal of acquaintance with the CLIC staff, we were able to set off back towards the campsite. Closure of the swing bridge entailed a short diversion, but track was soon regained. About halfway back to the site, my second little technical problem began to manifest itself. It seemed to me that my engine was misfiring on one cylinder, especially at high power, which could only be due, I thought, to water in the magneto. Sure enough, just past the airport, the Connie gave up the ghost altogether. Sue was ahead of me, so I pulled into a convenient gateway to consider my options. I wasn't keen to use my mobile phone, as I would have to take off my brain bucket and the rain had started again. The odometer showed that I had covered 123 miles since leaving home that morning, so I checked the fuel tank contents and found that there was fuel, although the level was low. I have four Royal Enfields and the supply arrangements are different on all of them. I seemed to recall that the Constellation had no reserve tap, and I couldn't see one from on board the bike, so I tried leaning the bike over to the left to tip remaining the fuel over the central spine of the tank. This met with little success. I could see a little fuel running down the feed pipe, but it was no more than a teaspoonful. I would need more than that to get to the campsite. I pulled the bike onto its centre stand and prepared to phone Sue and ask her to get me some fuel from the garage about five miles ahead in Langford, but one last check under the fuel tank revealed that there WAS a reserve fuel tap, cunningly concealed right up under the "skirt" of the tank. "Is it open or closed?" I thought to myself. There was only one way to find out because, what with the weather and my presbyopia, I certainly couldn't read the labels. I pulled the lever across-and fuel gushed down the feed pipe! A gentle tickle followed by a firm prod saw me on my way once again, relieved not to have had to take off my helmet in the pouring rain and sorry to have doubted the excellent job that Sean Hawker made of rebuilding my magneto!
Back at the campsite, I found that the Meteor Minor's battery was flat. Now, this bike has coil ignition, and if I couldn't fix the Connie's lights it might be needed, and if it was, the battery would have to have some juice in it. A brief investigation revealed that the brake light switch was out of adjustment so after correcting that I rigged the battery charger whilst Sue took the Bongo off to the filling station to refuel and get some unleaded for the Constellation. When she returned, and I prepared to refuel the Constellation I discovered that I had no measuring cup for my Miller's VSP! The latest batch, which I had purchased especially for the trip, was in a new type of bottle. No measuring cup is supplied with the new design (Mr Miller please note!) and so I had made a mental note to bring one of the old cups with me. I now remembered that mental note. I began to feel a little disheartened. Fuel exhaustion, failed lights, flat batteries, cataracts of rain, and now old-timers disease! I made an experienced guess at the amount of VSP required, said a short prayer suggesting that some slightly drier weather would be a good idea for the morrow, considered the response to such prayer that Noah had obtained, and covered the bikes for the night.
Sue had prepared one of her most delightful culinary triumphs, and was busy resurrecting the frozen chilli in her Remoska. A large helping of hot chilli, accompanied by a no more than moderate-sized (!) glass of Cabernet Merlot and I began to feel a little more relaxed. In the morning, the rain would stop, I'd fix the lights, the Meteor would fire up on the first prod, and we had no more calls to make. But as I fell asleep, I thought that, had I been a Catholic, I'd have given my Rosary a thorough telling………
Day Two dawned cloudy and overcast, but the rain had stopped, indeed, it stayed dry pretty well all day. After breakfast, things began to look up. I soon found that the Constellation's lighting failure was due to the loss of a grub screw from the light switch. I had no spares, but I did find that the set screw from an emergency cable nipple would fit well enough, and so the lights were quickly restored. The Meteor's battery now overflowed with wigglyamps and the engine started easily, so after the usual camping chores, we broke camp, packed our gear and, at about 1130, we set off towards Much Wenlock.

The only cause for complaint I found was an encounter with what I can only assume was a shell-crater in the middle of the carriageway about 100 yards after passing the sign heralding my arrival in Shropshire. I couldn't avoid it due to overtaking traffic and the forks bottomed out, but I managed to keep my seat. After that, progress through Shropshire was rapid and smooth, I didn't even see much of the famous Shropshire fertilizer on the roads, although there were several spreaders to be seen and olfactory evidence was plentiful!
By the time we reached Craven Arms, the weather was dry and sunny with scarcely a cloud in the sky. As I approached the filling station via the rather tortuous approach road, the white, long wheel-based van ahead of me stopped abruptly. He had failed to make the turn into the pump lane and, without further ado, began to reverse quite quickly. I was obviously in the centre of his rear view mirror-we had both been making a right turn, and I was in his five-o'clock. I turned to my left and took off like a scalded cat, only just managing to prevent the collision which would have wrecked my bike and injured me. I took the bike back around the block and approached the filling station. As I parked at the next pump to the van I thanked the driver for almost writing me off. When I explained what had happened, he said I wasn't in his mirror, but after considering the matter for a minute or two, apologised, saying he hadn't seen me. Not the same thing, is it?
The town of Much Wenlock was reached about 3 o'clock, with 241 miles on the Constellation's odometer, and we soon located our campsite. The Sytche is a well equipped campsite on the edge of the town, looking out over the countryside to the North West. Whilst we erected our awning and arranged our wet gear to dry in the light breeze, the sky cleared and we were treated to a beautiful, warm, clear evening disturbed only by birdsong and the occasional helicopter from nearby R.A.F. Shawbury setting out on a navigation exercise (Much Wenlock is invariably the "departure point", to the annoyance of some residents and visitors alike!). As we sat in the evening sun savouring another excellent supper, this time chicken and vegetable casserole, and a drop more of the Cabernet, it struck me that most of the six or eight mobile homes on the campsite were equipped with extraordinarily elaborate aerial systems, some with satellite dishes, and almost all of our neighbours were sitting in their 'vans watching television, the silly sods!
During the evening a temporarily absent neighbour returned to the site and it transpired that we had camped, quite unknowingly, next to another Mazda Bongo, and so we struck up an acquaintance with the owner.
Day Three dawned bright but cloudy. After the usual breakfast and camping chores, we set off at about 1030 after phoning ahead with our E.T.A. to H.M.S Eaglet, the Royal Navy establishment in Liverpool where our vehicles were to spend the night.

Commodore John Madgwick, O.B.E., is the Naval Regional Officer Northern England (NRONE), headquartered at Eaglet, but is better known to his friends as "Magic", and he had very graciously agreed to our leaving the Bongo, trailer and bikes in his establishment for security overnight, and so that we would be ready to board the nearby Seacat ferry to Douglas next morning. He and I have met briefly once or twice during the intervening years, but we served together in 826 Naval Air Squadron, H.M.S. Eagle, in the 1960s. Naturally, our meeting brought back many pleasant memories, but after an all-too-short interlude, duties called us both, Magic to the organisation of a forthcoming mine countermeasures exercise and myself to the trailering of both motorcycles in readiness for the ferry. I had to unship the Meteor Minor from the centre track, and position it onto the right side track, but first of all, since the Meteor has only 17″ wheels, it was necessary to remove the offside footrest so as to clear the trailer's mudguard. I then persuaded the Constellation onto the left side track, securing both very carefully for the Seacat's boarding ramp and sea crossing. All this was pretty thirsty work, as the sun had come out with a vengeance, and I regretted neglecting to bring a hat to protect my, nowadays, rather thinly-covered scalp, but the fact is that the weather had been so consistently depressing during the weeks before our journey began that I simply hadn't thought of it. Fortunately I was assisted, quite unasked, by a very helpful young man who emerged from the establishment accommodation block and took a very great interest in my bikes. I didn't catch his name, but I do thank him most kindly.
Day Four began with a continental breakfast at the Travelodge, and then all we had to do was stroll next door to Eaglet, flash up the Bongo and drive the mile or so to the ferry port, passing the "Three Graces" (the seafarer's term for those three elegant buildings which line the Liverpool waterfront, the Royal Liver Building, the Cunard Building, and the Mersey Docks and Harbour Board building) along the way. Boarding the Super Seacat 2 was straightforward (in a roundabout sort of way!) and the ship was ready to "slip and proceed", as sailors say, on schedule at 1100. It was a beautiful day, the sea was smooth and the crossing uneventful, save for a scrumptious "Manx Breakfast" which, it must be remarked, closely resembles its English equivalent! We were alongside in Douglas by half-past one and duly disembarked, driving straight up to Government House where we were met by His Excellency, Lieutenant Governor Sir Paul Haddacks, and Lady Haddacks.
On arrival at Government House I was surprised and delighted to discover that Sir Paul's residence is guarded by a splendid field piece which strongly resembles that depicted on the Royal Enfield marque badge, and Sir Paul assured me that it is kept loaded and primed-just in case! A garage had been allocated for the motorcycles, and we proceeded to unload them and prepare for the final part of the Challenge-a lap of the TT circuit, scheduled for 1030 the next day. The Meteor Minor was unloaded first, fired up without difficulty, and ridden around to the garage, where it was checked and made ready for its part as back-up machine. I unloaded the Constellation, started it and rode it around to the garage as well. I then noticed the trail of oil which had been left on the roadway. It was immediately apparent that the oil was from the Connie, and the oil filter cap was found to be loose. This could be disastrous for the Constellation-perhaps the Minor would get a run around the circuit after all! I investigated and found that the oil filter cap securing stud had stripped its thread. I removed the stud, sawed off the damaged section of thread, and found that the stud, being rather longer than necessary, was still long enough to be reinstalled. The securing nut was, fortunately, undamaged, so the repair was completed, to my considerable relief! Although I would very much like to have ridden the Meteor Minor around the course, as things fell out, I didn't have time, and the "Challenge" was really to ride the Constellation. Just to be on the safe side, I took the Connie for a quick run down Glencrutchery Road, topped off the fuel tank, and finished off by checking the oil and tyre pressures. All was ready for the Big Day!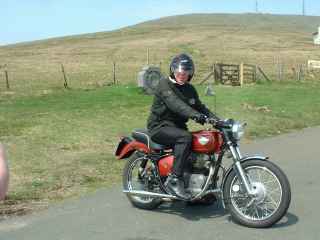 Day Five, Friday 12th May, 1015. I was ready. Both of the bikes were ready. The weather was fine. Silence reigned. Where were they? I had invited several friends and colleagues to accompany me around the circuit as a kind of "Captain's Escort". I have studied plenty of "on-bike action" videos and also driven around the circuit in a car, so I reckoned I wouldn't get lost, but a few riders who knew the circuit would guarantee it, and numbers would help with the publicity, as well.
I shouldn't have worried. One after another, they arrived, and what a wonderful sight and sound they made. The V.M.C.C. contingent comprised Tony East (1965 Thunderbird), Ken Blackburn (Velocette Venom), Clive Kneale (Sprung-hub Speed Twin), Harry Cardy (Oil-in-frame Thunderbird), Juan Clague (1948 B.S.A. A7) and Ashley Gardner, also a captain at B.A. Connect, (1973 Suzuki "Kettle"). All of these kind gentlemen are residents of the Isle of Man, of course, but the team was completed by the arrival of Brian Selwood, of the Royal Enfield Owners Club. He has attended the TT races regularly for many years and has also served as a track marshal. On this occasion he had ridden his 2000 Royal Enfield 500cc Bullet up from Aldershot a couple of weeks early in order to join us on the ride-and thus I was escorted by this Most Distinguished Company, seated upon seven of the most beautifully prepared bikes I have ever seen, on my lap of the circuit. What a fabulous experience, what wonderful friends, and what a fantastic result was in store!
As we made our stately progress around the hallowed circuit, there were very few delays. At Quarterbridge, a particularly busy and complex double roundabout when subject to normal traffic, we had to wait a minute or two before continuing toward Braddan, and as we approached the signals at Ballacraine we were held up by a couple of agricultural wagons. Preparations for the racing were in hand at Glen Vine, delaying us very briefly, and, after a short wait for temporary signals at Drinkwater's Bend, we settled into a pleasant 50 m.p.h. clip, subject, of course, to the local speed limits and keeping a weather eye out for the cardboard bobby with a radar gun just outside Kirk Michael!
The well known features of the circuit passed in succession, Alpine Cottage, Ballaugh Bridge, Sulby, and soon we were passing through Parliament Square, Ramsay, negotiating light traffic as we swung through Waterworks and into the Gooseneck. This is extremely tight and was taken at a careful 30 m.p.h. and then we were on the steep climb onto the Mountain. I had been a little concerned about my Constellation's power output. Although these 700cc twins were capable of well over 110 m.p.h. when new, I have been unable to replicate such a performance, not least because of current speed limits, of course, and I was unsure how the climb would go, but we virtually stormed up the incline, passing the Guthrie Memorial and into the Mountain Mile at a fine pace. After the necessarily slow initial climb out of Ramsay, I was pleasantly surprised to find that the Constellation would climb easily in top gear. Tony East, who was just behind me on his '65 Thunderbird, confided afterwards that he had had to drop into third gear to keep up!
The Mountain section must surely be a universal favourite. Sweeping bends combine with beautiful views to make a racing circuit which is unique, as far as I know. Under racing conditions, the experience is rather less romantic and prodigiously more demanding-absolute concentration is required to progress through some of these extremely complex bend sequences at speeds of around 180 m.p.h., and in some races, four laps are completed!
Once again, the famous names slipped past, evoking memories of the radio commentaries I had heard in my youth, "listen as the factory Nortons come by, etc.", the Verandah, Bungalow, and into the triple curvature Brandywell. Windy Corner had been closed for resurfacing for about six weeks, commencing in March, and I had been worried that the work might not be completed before my Challenge lap, but all was well. In fact the camber has been modified to give a more consistent curve, and this might well lead to slightly better racing times, though it is said that the main problem with Windy is, naturally, the crosswind, which prevents riders from banking rapidly enough upon entering the bend. There was no wind today, and we had no trouble banking at our modest speed, and so to Kate's Cottage and into the long, precipitous straight down to Creg-ny-Baa. It would be easy to arrive at the Hotel with a little too much speed for the corner and I've often wondered how many riders have tried to take the bend too fast and ended up in the car park-or even the bar, perish the thought! There's always a big crowd here on race days, and there's a large stand, positioned well out of the way of any errant machines!
The remainder of the circuit is quite fast, and we covered it quickly enough, but at Signpost Corner we were really getting back into the suburbs, and first 40 and then 30 m.p.h. limits reduced our speed. Although the Isle of Man is the motorcycle racing capital of the world, you can still be prosecuted for speeding, and this particular stretch is a favourite. If proof were needed, I saw a speed cop here with a radar gun the day after the ride.

With 362 miles on the Constellation's odometer, we crossed the "Finish Line" at Government House at 1139, to be welcomed by His Excellency the Lieutenant Governor, and Lady Haddacks, the ex Mayor of Douglas, Mrs Glenda Corkish, and Mr Corkish, the ex Mayoress of Douglas, Mrs Ruth Denning, and Mr Denning, as well as the legendary TT rider, Eddie Crooks, and Mrs Crooks. Mrs Corkish and Mrs Denning had completed their term of office just the day before our ride.

As we parked our machines and began to relax and discuss our experiences Harry Cardy very graciously presented me with the last remaining badge commemorating the V.M.C.C. 2005 International T.T. Golden Jubilee Rally, a very handsome adornment indeed, which I shall always treasure. Mrs Denning then absolutely made our day by presenting Sue and I with a cheque for £2000 in favour of CLIC Sargent, which had been one of their favoured charities whilst in office. This took the total amount raised to a little over an absolutely incredible £10000! The entire company was then entertained for a light lunch by His Excellency and Lady Haddacks which made a splendid end to an absolutely fabulous experience.
After a weekend of relaxation courtesy of our hosts, when some of the splendours of the Isle of Man were explored by car, the bikes were trailered together for the journey home just as the weather broke on Sunday afternoon. A night of heavy rain could not dampen our enthusiasm for the island as, early on Monday morning, we made our way reluctantly to the ferry port to begin our journey home. We had had a week beyond our wildest dreams, the only disappointment being that the Meteor Minor had not graced the track. Perhaps it will return one day! The trip back was uneventful and quick. The day after our return we heard that the ferries had been held off because of the discovery of a WW2 bomb in the Mersey, and the M6 was closed in both directions following two crashes. The gods had certainly smiled on us for the whole adventure. Since our return the bikes have settled back into a less prestigious environment, and even more donations have been made, bringing our total to nearly £10900, and at the time of writing, there are still two months until the closing date of our fundraising.
It only remains for me to thank, most sincerely, first of all my wife, Sue, for her unwavering help, support and forbearance, and also the many, many, kind and generous individuals and companies, really too numerous to mention here, who have sponsored or assisted us on our journey, or contributed to our fundraising activities. We simply could not have done it without you all!
Alun Thomas
(aka Captain Constellation)