Justin Foster is a fibre optic engineer. But he is also a man on a mission, as you can see from the photo above. Little did he suspect that a paddle in the Bay of Biscay would lead to a severe career change. Justin takes up the story:-
For this year's holiday the good lady (Hannah) and I decided to take the Bongo from Plymouth to Roscoff, and then we drove straight down to Bidart (Biarritz) and surfed our way back to the ferry stopping at Hossegor, Biscarrosse, Arcachon, Lacanau, Royan, Ile d'Oleron, Longville, La Chume, Concarneau, Benodet, La Torche, and then finally back home again to the English Riviera. The whole trip took us two weeks and the Freda didnt miss a beat.
En-route we met some interesting people including the Haworths from Barnstaple (that's them on the right).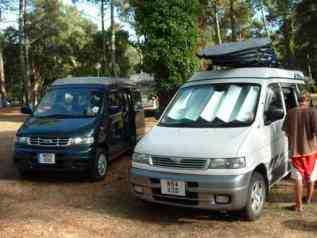 Anyway, everything went, um, swimmingly, except for when I was surfing at Lacanau when my good lady Hannah thought she would come out and take some pictures of me surfing with the waterproof camera, putting the ignition key in the camera bag strapped to her. But when we walked out of the water the camera bag was unzipped, and with a 2 metre swell there wasn't much chance of retrieving the key.
Two hours later with a thin piece of wood and a 'borrowed' piece of someone's washing rack I gained entry through the drivers door…. no need to say exactly how I did it but no damage was caused… and luckily I keep a spare key hidden in the engine bay.
This was when I had a moment of inspiration and decided that car crime was potentially more profitable than my current line of work, and on the way back to old Blighty I worked on my future career plans.
On the way back through France we mainly stayed overnight in the little motor home stops, and found some great ones in Biarritz and Biscarrose for 7 euros a night.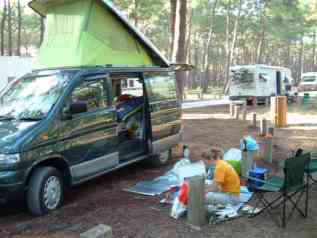 The highlights of the trip for me were surfing all along the south up to the Vendee area as I didnt need a wetsuit! Les Conches (bud bud) was the best beach set up by far for me and had great waves, a pannini stall and a small bar! (my heaven!) Just the odd nudest person slightly put me off balance while surfing!
All in all we spent in two weeks what we would normally spend going on our annual month holiday to Sri Lanka including flights (France was a lot more expensive than we first thought!) But we had a great time and will do it again, especially as I now know how to break in to campervans!
Already thinking of the next trip around Ireland.