Hooray for Allan!
Ian Harley had a problem with his Bongo, so he went to get an expert opinion from Allan's Vehicle Services. Not only was his problem solved, but he got to meet "the team" (pictured above). See below for his tale.
---
Is my Bongo really making that funny noise…?
When it comes to trying to identify and find the source of a strange or unusual problem with you beloved 'mini-home on wheels', you can often be at a bit of a loss.
Although they are becoming a fairly common sight here in the SW of England, finding a true expert locally to sort out the trouble can be a bit problematical, as many 'mainstream' garages can be a bit reluctant to get involved. I can't think why, as they are relatively simple to work on for most things and like all Japanese motors especially Mazda's they are pretty well bullet proof and reliable to the 'N'th degree.
However a quick browse of the website found my answer, Allan at Allan's Vehicle Services at Wixenford.
Allan is one of the most amazing people you could wish to meet. Not only is he a mechanical genius when it comes to the Bongo, he is willing to drop what he is doing to help a customer at a moments notice.
Good old-fashioned craftsmanship, and attention to the customer are what set him apart from many others. I can't thank him enough for his help.
It must be said that other must think so too, it appears he has poorly Bongo's coming from all over the South of England to get the magic touch.
And my 'funny' noise…
Initial suggestions from local garages suggested the front CV joints had gone and 'ok we may be able to do it if we can get the parts… can you get a mortgage!'
Allan's verdict…
' Give me moment and I'll come for a test run with you…
Hmmm… not right that, but it feels like the oil levels are either low or not circulating in the rear limited slip diff.'
And it was! A quick oil top up to the LSD and transfer box and 'Thunderbird 2' is back in action better then ever.
And the cost? Well let's just say that I don't know how he makes a profit if his rates are that low.
Thank you Allan. Keep up the great work. And it was really nice to meet "the team"!
Ian Harley
Very happy Bongo owner.
---
The Bongomaster writes: Allan knows so much about Bongos he can even keep his on the road despite the fact he reversed in to a low railway bridge!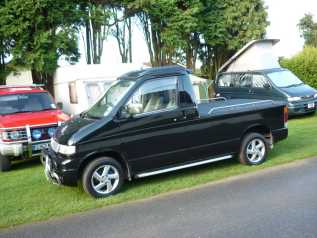 ---
Here's a postscript from Francis Hallam:
Down Devon lanes in search of a legend…. And finding one in Allan Bugg
You know you're onto something when a place is really hard to find. And when the person you get to says he wishes he had found somewhere more out-of-the way, you've hit gold dust. Allan Bugg is, frankly unique. Where others talk knowledge, he has it. Where others boast 'customer service' he lives it. The only problem is that he is so nice that he has to help absolutely everyone. Time becomes an elastic concept.
I got to his place at 8am as arranged. He was just doing a job on a Bongo which I had seen take an hour to do in another garage. He took ten minutes! Time for me. No! A lady arrived with an exhaust that needed replacing and after a lot of moving of vehicles, the job was done….with a brief interruption to help a gentleman out with his wheel sizes….Two hours later…
I had been informed by three garages that my problem was related to my brakes. Not with Allan it wasn't. Eventually I got priority from marauders when he told me to block the entrance so no-one else could get in. 50 metres down the road for a test run and 'Aha! I've heard that sound before. It's the UJ bearing going on the propshaft.'
As we're talking about this, and Allan can talk for England, he's pointing out all sorts of other things about my vehicle that suggest he's a clairvoyant or something.
Did I resent the two hour wait? Did I hell! It is a privilege to see someone who is magnificent at what he does and doing it with love and passion and none of the c**p of our century. I'd queue for days for that…..
Oh, and by the way, he didn't charge me, 'Later, when we get the work done….'