Other than the badge, there's no difference between a Mazda Bongo Friendee and a Ford Freda. (Mazda and Ford are the same company). We will refer to them as Bongos here. Bongos were manufactured for the Japanese domestic market. Those that are exported to the UK are classified as unofficial or "grey" imports. As such, Mazda UK will generally have little to do with them.
First built in May 1995, these unique and versatile vehicles come in 3 engine types; 2.5 turbo diesels (WLT engines), V6 2.5 litre petrols (J5 engines), and 2 litre petrol engines (FE engines). Most have automatic transmission, and there is a choice of rear wheel drive or, on the diesel Bongo, full time all-wheel drive.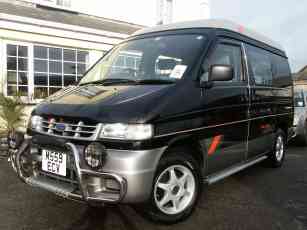 You have a choice of an elevating roof ("Auto Free Top") or a flat-top. Some firms here in the UK also fit their own elevating roofs.
Front & rear air-conditioning is standard on all vehicles. Most (but not all) have electrically operated internal blinds and external mirrors. There is an auto-close system on the sliding door.
The engine is situated mid-vehicle, so neither the driver or passenger seats will swivel, although there are after-market swivel seats available. In a standard configuration, there is a 3-person bench seat in the middle of the van, and a further 3 person bench seat at the rear. This rear bench is either on a sliding rail, or will split in two and will swivel up to hook on to the side of the van.
Some early Bongos come equipped with factory built kitchen units.
In November 1997 some modifications were made to the body work. These are called "facelift" models.
In February 1999, "New Shape" Bongos started to be produced. They finally ceased production in late 2005 when the factory burnt down.
The following useful information has been extracted from the very informative site www.allansvehicleservices.co.uk
With limited space for road vehicles and strict regulations, there is virtually no domestic used car market in Japan, and a rapid depreciation in car prices. Intense competition between manufacturers means that models are constantly upgraded or re-designed, and many extras fitted as standard, which would usually add thousands to the price of a UK car.
Japan, as any visitor will confirm, has a huge congestion problem. With a 60mph speed limit and the best public transport system in the world, their cars have approx 50% less on the clock than equivalent UK vehicles. They don't use salt on their roads, (preferring to rely on 'winter tyres'), so there is less or no rust. The Japanese culture prefers 'new' to used and leather interiors are rare, due to Buddhist influences. Alarms are unusual and car-crime is low.
The Japanese can't purchase a vehicle unless they can prove they have sufficient, regulated parking space for it. There is rarely more than 1 carefully maintained vehicle per family. Tough regulations and attractive new model deals make it economically desirable to get rid of a used car quickly. When they buy a new car from a dealer, they are given a 3 year 'stay'. When this comes to an end, they have to pay almost 50% of the car's worth to extend that 'stay' for a further 3 years.
Japan has a strict car registration system called 'Shaken'. It consists of a series of safety and emissions inspections combined with compulsory insurance, weight and vehicle tax. New cars come with 3 years 'Shaken'. After this has expired the 'Shaken' must be renewed every 2 years throughout the ownership of the vehicle. The cost of renewing the 'Shaken' is relatively high as their governments policy is to reduce car ownership, due to the limited space available and pollution concerns. Therefore the Japanese generally sell or part-exchange their car as a period of 'Shaken' expires.
---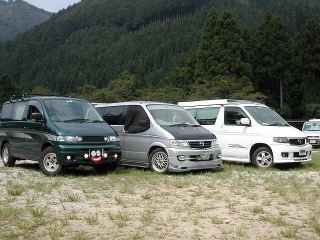 Bongos are becoming increasingly difficult to find at auctions in Japan, but there is a thriving market here in the UK. On arrival in the UK, some are converted into campervans (as defined by the Dept of Transport),
So what are you waiting for? Now go and find out how to Buy A Bongo.