Ben Bruce ("2Sticks" here on the Forum) was the club's unofficial video-man until his untimely death a couple of years ago. He was also keen on keeping his Bongo in tip-top condition and recently his wife Pat discovered a pair of unused genuine Mazda chrome mirror covers. She has instructed us to auction them to raise money for Bongo, our adopted elephant in Kenya. We have been supporting the orphaned one-tusked pachyderm for a number of years contributing towards his rehabilitation and, eventually, his return to the wild.
The chrome covers, no longer available from Mazda, glue on to the back of your existing mirrors and normally retail for over £200.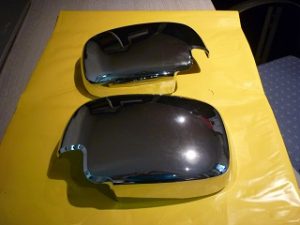 I will start the bidding at £45. If you wish to bid for the covers then either post it here or email me at
ian@bongofury.co.uk
, stating the maximum you are prepared to pay.
The auction closes at 1pm on Friday 15th November and the winner will be announced here and in the next quarterly newsletter.