The Bongo Marketplace
This page was last updated on 23.02.17. The next update will be on 26.02.17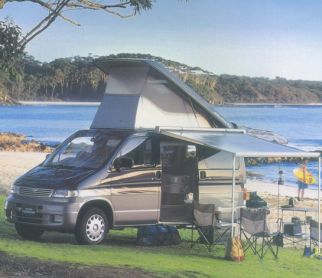 On this page you will find details of vehicles and Bongo related stuff that members (and non-members) have decided to sell. There is also a section where dealers can advertise their vehicles. If you want to buy new Bongo parts and accessories, then go to the Shop. To find out how to advertise on our for sale page, click here.
Please select the category you require.
Bongos For Sale
23/02/17 VEHICLE NOW SOLD: Only 58,000 miles, 1998, 2.5 Turbo Deisel, Automatic,  Alloys, 4 Berth Camper: RocknRoll Bed, Fridge-Freezer, 2 Burner Hob, Sink, Hook up, Solar leisure battery charger, No Rust, Wax oiled by Allens, Well looked after, reluctant sale, moving to France. MOT September, email for more info and photos, No Canvassers
£7,495 o.n.o.
email: stay.slaptonsands@btinternet.com  Tel: 01548 581106  Mob: 0779 1580134 (Devon)
21/02/17: Unconverted freetop 1996 P-Reg manual 2wd diesel in great condition. Mot'd until October 2017. The usual slight rusting on the rear arches but good as gold otherwise. Larger wheels give that little extra clearance when carrying heavier loads, tinted windows, cd/radio, underseal, full set of spare carpets.
£3999
07732 064799 (Haywards Heath, West Sussex)
20/02/17: M reg 1995 2.5 turbo diesel For Freda. Mileage 88,000. FSH MOT expires August 2017. Full service and wax oiled in October 2016. Rust free. Comes with side awning. Has rear kitchen conversion. Two keys. Owners manual.  Only two owner in UK.  It has done less than a 1,000 miles per year since 2008.
£4,600 ono
Contact Tom on 07869 700921 and email tommyball64@gmail.com for more pictures. (Aberystwyth)
20/02/17: 2002 Automatic 2 litre petrol. 86,688 miles, MOT till 16.12.17. Mushroom roof, full side conversion, rock & roll bed, swivel passenger seat. Reconditioned gear box 7.12.15, repaired arches 20.1.17, (receipts). Good condition, good runner.
£9,000.
Tony, North Cornwall. 01288 321616/07818 422348. More photos available email jordan247@btinternet.com
20/02/17: 2001 Mazda Bongo 2.5 V6 Petrol. 79,600 miles. Imported by JAL Imports in 2014. High rise roof. Rear conversion (incl swivel middle seat) by Northstar conversion. Double hob, sink, electric fridge, leisure battery, electric hookup. New coolant pipes, new breaks, rear camera, parking sensors, GPS tracker, air-conditioner, electric mirrors, auto blinds, Sony CD with USB and Bluetooth, hands-free, tinted glass, all-seasons tyres, Fiama bike rack and large bag, drive-away awning. Stone chips and a few minor bumps. Undersealed. Very reliable. Sadly underused as I work weekends now. MOT April 2017.
£10,700
id@uclmail.net (Notting Hill, London)
16/02/17 VEHICLE NOW SOLD: 1996 Ford Freda 2.5TD Auto. 100618 miles. Auto Freetop. Rear conversion by Southern Bongos. Double hob, sink, electric cooler, leisure Battery, electric hookup, 60W Solar Panel & controller. Fully serviced by Bongo specialist last 7 years. New cylinder head, radiator, cam belt last year. Undersealed. MOT April 2017. Bodywork needs attention, surface rust, stone chips. Very reliable used frequently.
£2500 ono.
Contact 07968838378 or email andy@andrewbridger.com (Weymouth)
16/02/17: 1997 Silver Freda AFT, Diesel Automatic, reliable daily driver with 127,000 miles. Wellhouse Leisure conversion with Cannons Forge R&R Bed. Safe for kids travelling in back. New alloys and tyres. Recent Cam Belt, Water Pump, Rad and Stat. Coolant and Mason Alarm, Tow bar, MOT till April.
£8300.
Contact: paul_corlett@sky.com – 07775 542636 (Manchester)
14/02/17: 2.0 ltr Petrol, Electric Windows, Power Steering, Electric Adjust Mirrors, Central Locking, Soft Close Side Door for Easy Accesses and Exit, Electric Window Blinds, Night Security Side Opening Windows and Privacy Glass,Air Conditioning, Automatic Gear Box. Low miles for its age 78,000 and drives brilliant! This mpv  has 8 Seat Belts and seats fold down to a large bed it can be used for school runs, Shopping or every day use. Well worth a test drive.
£5699
Contact 07811 211151 or email chrchlltny@yahoo.co.uk  (Plymouth)
13/02/17: 1996, 8 seater with Auto Freetop, 2.5L Diesel Automatic. 125,500 miles (201,970km) on the clock and running great. 12 months MOT. Great, reliable 8 seater van. There is some TLC needed in regard to bodywork (see rust above rear wheel arch). Kenwood radio/CD/Bluetooth/DAB/hamds-free kit. Fully working freetop and electric blinds.  Folding table and original awning. Batman sticker can be removed if required!
£2400 ono
Contact Sophie on 07980 546790 / sophiewelton@icloud.com (Liverpool)
13/02/17 Non-Member Sale: 1997 Bongo, 82,525 miles, Diesel Automatic, MOT till Jan 2018. No conversion but seats fold down to comfortable double bed. We used it with a drive away awning (available free of charge) where we unpacked our gear, and slept in the Bongo.
£2,500 ono
Contact maryverdon12@gmail.com (North East London)
13/02/17 Non-Member Sale: Mazda Bongo AFT 2.5 TD 4WD Auto Year 2000 93.6k miles Side Conversion by 321 Away Pumped water Hob Fridge Aircon Refurbished alloys Rock'n Roll bed Fiamma awning DAB radio New tyres MOT & Service August Excellent condition
£11,500 ono
Located Wilts SN8 3TD Tel 07900 372783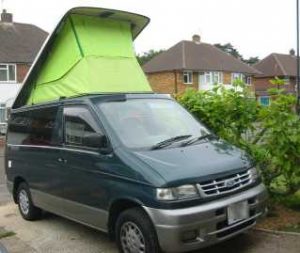 13/02/17: 1995 diesel converted Bongo with large rock-and- roll double bed, portable Waeco coolbox, 5 seats with belts. MOT till October 2017, towing hitch, new main and leisure batteries, mains hook-up. Used frequently, runs well. Minor bodywork damage, 93,000 mileage.
£8,900 ono.
Mobile: 07976 243847. email: jennycooper1@talktalk.net (Berkshire)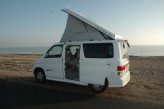 01/02/17 VEHICLE NOW SOLD: A rare opportunity to acquire this superb `Mazda Bongo Friendee, bought April 2016, newly converted by Imperial of Poole. Sadly at the age of 88 found camping too hard and have to sell. A great drive, low mileage, automatic petrol engine, easy raising electric Roof and electric wing mirrors. Rear fitted kitchen, fridge and cooker. `hanging wardrobe plus other storage. Seating for 5 and sleeping for 4. MOT until February 2018.
 Bought for over £19,000, now only £15,750 (o.n.o)
Phone 01424  552123 to view in Bexhill on Sea or email iandrkruger@hotmail.co.uk for more info
29/01/17: Mazda Bongo 2.5tdi 4wd AFT unconverted. N REG (1996) 135600 miles. Light green with  tinted rear windows. Leisure battery with split charger. Recent cambelt, exhaust, brake pads. MOT Dec 2017. Body work requires attention eg wheel arches. Used frequently, runs well.
£2,500 ono
Contact 07787 512660 or atzimas@gmail.com (Stafford). No canvassers
25/01/17 Non-Member Sale: P Reg (96) 2.5 diesel automatic, 121,000 miles, FSH, MOT till March 17
Rear kitchen with fridge, double gas hob and sink, leisure battery, awning attached to the side. Tow bar and bike rack to rear, thermal screens, electric hook up lead and brand new wheel arches not fitted. Excellent runner.
£4,500
07875 207019 Crawley, West Sussex. No canvassers.
Trade Vehicles
Bongo Interiors
Camping Accessories
09/02/17: Outwell Country Road drive away awning with inner tent. Good condition.
£175 ono
Also a Hi-Gear Mojave extension that fits onto the Country Road awning to extend it.
£50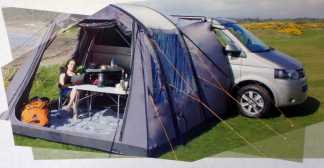 06/02/17 TRADE AD: 7 Plus Motors are now proud stockists of the market-leader awning specialist, Vango! We can now provide your Bongo or camper with an updated range of drive-away awnings, to offer you the convenience of having additional space for living, sleeping or storage. The models offer convenient free-standing structures that can be quickly attached to your vehicle, or detached, for a quick getaway!
Contact Charlie at 7 Plus Motors for more information: Tel: 07768 498377. Email: sevenplusmotors@outlook.com(Plymouth)
Other Bongo Bits
23/02/17: I am selling a set of 4 Mazda Bongo Steel Wheels and Tyres, in excellent condition, complete with Wheel Trims.
I am open to offers around the £85 mark, and can be paid in cash, on collection.
I am based in Grimsby, North East Lincolnshire.
07946 169 550 email    dick.appleton@ntlworld.com
15/02/17: Private Reg J6BOD. Great for a BOngo Dieisel owner, or if you are on the Board of Directors etc. Non specific year plate and cost includes the fee to transfer the registration to your ownership (£80 via DVLA V317) Euro plates as pictured included – 1 off front and rear
Price: £500
Contact: 07562 713799
15/02/17: Original set of 15 inch wheels, trims and tyres, off 2002 Bongo. Ideal winter set to protect your alloys from the winter weather, very good condition. 3x Bridgestone PlayZRV (92H rating), Possibly need to replace one tyre. 1x Toyo (92S rating). More pictures on request. Collection only from Coventry.
Price: £110 ono
Contact: 07562 713799
09/02/17: A full set of steel rims with as new winter tyres and new sheet trims for sale.
£200 ono
Non-Bongo Stuff
Breaking Bongos
Dismantling all Bongos 1995 to 2004. Full mail order service available. No part too large or small. 10% Discount to all Club Members .
Click here for details.
Servicing
Breakdown Insurance
2gether motor breakdown covers all cars, vans, motorcycles and motorhomes including campervans up to 3500 kg GVW and not exceeding 27feet. 2gether can offer a bespoke solution if you fall out of this criteria. UK and European options available. Click here for further details.
Other Trade Adverts
Hire a Bongo
We hire out Bongo Campervans with both full side conversions (2) and one rear conversion. We are based in Shoreham By Sea near Brighton. Included in your Hire is : Unlimited Mileage, hook-up cable, hob, fridge, all cooking utensils, cutlery and crockery.
Check our website out here or email us with any questions at nicky@bongoagogo.co.uk
Welcome to our Camper Hire Section! Our new fleet consists of
Mazda Bongo 2.5td AFT Elevating Roof, 8 seats,
Toyota Granvia-Hardtop-Full Camper, 2 and 4wd,
Rugged Trails, Hard Top DELICA, 4wd
Click here for more details. In first instance please send an email to hire@jalimports.co.uk and we will send prices and fleet photos.
How To Advertise