The Bongo Marketplace
This page was last updated on 23.03.17. The next update will be on 26.03.17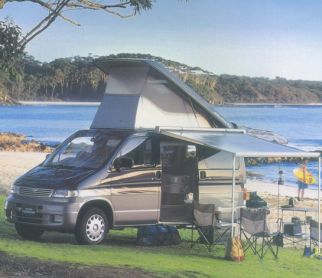 On this page you will find details of vehicles and Bongo related stuff that members (and non-members) have decided to sell. There is also a section where dealers can advertise their vehicles. If you want to buy new Bongo parts and accessories, then go to the Shop. To find out how to advertise on our for sale page, click here.
Please select the category you require.
Bongos For Sale
19/03/17: For sale R Reg bongo,camper top, always been reliable, diesel 2500 engine, New mot from Jan 2017. Mileage 134189 just had top end rebuild,new head,gasket pipes,glow plugs,battery,fan regulator,body work needs some tlc
Offers around £4000
Contact Rachel on 01446 751066 or 07968275369 (Vale of Glamorgan)
19/03/17 VEHICLE NOW SOLD: 1997 2.5 diesel automatic 4wd free-top, 71,765 miles, one owner from conversion. 12 months MOT, new cambelt fitted and undersealed on conversion in 2013. 321 away montague 'full monty' side conversion, 4 seatbelts, includes side awning, electric hook up, two mattresses and much more, some stone chips etc as per age. No canvassers
£7,350 ono
Contact Ian on 07791052333 – email joian1@sky.com (Portsmouth)
19/03/17 Vehicle Now Sold: R Reg 1998, 2.5L, V6 petrol, AFT Bongo Friendee.  59,000 miles.  MOT 22/07/2017 (no advisories).  One owner since import.  FSH.  Hayden LCA & Leisure Battery fitted.  New Stereo.  New cambelt at 58000miles.  Mint condition inside and out (no rust).  Over £500 camping accessories included (driveway awning, roof & cabin mattresses).
£4495ono
James 07530878120 / jandjpearce04@hotmail.co.uk  (Exmouth, Devon)
16/03/17 Non-Member Sale: Good condition 2000 Ford Freda (1900cc) petrol auto. 134347 miles, MOT March 2018.  Pop up roof, central locking, radio/cd/bluetooth, air conditioning, tinted glass, window blinds, 4 seats. Side conversion Smeg twin gas/sink, fold down bed, electric hook up, roof rack and 4 berth drive away awning. Wax undersealed and new tyres April 2016.
£8250
07766253596 (Exeter) or email david@simsy.freeserve.co.uk NO CANVASSERS
16/03/17: 2 litre Aero City Runner Bongo tin top. Registered December 2004 now has 67,418 miles / 108500 km on the clock. Unconverted 8 seater in excellent condition,towbar, rustproofed and MOT until August 2017. Second owner since import.
£5800 ono.
Van located in Lincolnshire. Tel 07973133702.
16/03/17: P Reg 1997 Autofree Top, 2.5 TD Automatic, 4WD, 103,600 miles, MOT July 2017. Cat 1 Alarm (2 fobs). Age related wear/rust spots. Excellent runner.  Annual service during ownership. Elite Conversion 2010 – hob / sink / fridge-freezer / rocknroll bed / leisure battery / mirrored windows. Comes with roof mattress/thermal blinds/sun canopy.
£5400 o.n.o.
Contact 07971621942 / js@sbis.co.uk (Sheffield) No canvassers
16/03/17 Non-Member Sale: 1998 Bongo Aero Free-top. 121,200 miles 2.5lt V6 Diesel Auto. 3 months MOT. Recent new tyres. Very reliable. 2014 import and conversion. 'Gold' service. Rock & Roll bed. Fridge, sink and double stove. Includes Khyam drive away awning & fitted groundsheet, bespoke roof mattresses, windscreen shades, Gas bottle.
£7500 ono
Contact details: Richard Fluin 07554451698 or richfluin@gmail.com (York)
14/03/17 VEHICLE NOW SOLD: Ill health forces sale of treasured 1999 Ford Freda (1990cc petrol).  Andy's Imports side conversion 2015 one owner since, good condition. All the usual Bongo bits plus tinted windows, remote central locking, thermal screens, portaloo usable when bed out. Pop up roof, could sleep 4. 87,000 miles. MOT February 2018.
£8,250
01206 619532 (nr Colchester) or rachelfletcher@btinternet.com
14/03/17 Non-Member Sale: 1997 Bongo friendee automatic, diesel re registered 2007 2 berth, kitchen with ice box fridge, electric and water inlets, rear windows with electric blinds. Seats 5 travelling
£4995 ono
Please phone 01942 494410 or email John   j.haddock70@virginmedia.com (Wigan)
14/03/17: 1998 Bongo Freindee Free-top. Bought from JAL. 88000. 2.5lt V6 Petrol. 3 months MOT ( no advisories last 3 years). New cam belt and seals. Alloy wheels. Good condition ( little rust on rear wheel arches). Used daily. Genuine reason for sale
£5500
judde.sword2012@gmail.com (Kent)
13/03/17 VEHICLE NOW SOLD: Bongo Friendee, 2000, 2.5L V6 Petrol Auto, good condition, silver/grey Imperial conversion, 98,000 miles, roof bars, tow bar, AFT, CD player, usb port, side kitchenette (fridge, cupboard, sink, 3 hobs), electric blinds, front window silver screens, leisure battery, recent radiator + catalytic converter + camshaft oil seals (receipts), MOT to June.
£7,950 ono.
Nicola 07738 783642 or smeg1985@hotmail.com (Poole, Dorset)
13/03/17 Non-Member Sale: M Reg Mazda Bongo (AFT) project / for parts; diesel; lot of rust identified as advisory in MOT (expires May); head gasket needs replacing; 5 seater / no other conversion; new cylinder head 2016; reasonable interior condition; probably better suited for parts – unless you're a mechanic.
Open to reasonable offer
West Wales 07972925753 janice.a.jenkins@btinternet.com
09/03/17 VEHICLE NOW SOLD: 2002 2L Petrol Tin Top Automatic. 100,600 miles. 12mth MOT. Serviced annually. Full conversion by Wheelquick. One owner since import in 2010. To include Khyam drive away awning and if required many camping accessories. New alloys Apr 2016, new Belts May 2015 and new tyres April 2015. Reluctant sale due to age.
£7,495
Contact John 07806-484476 email john.lundy3@ntlworld.com (West Yorkshire)
08/03/17: 1995 2.5 Diesel 4WD 84,000 miles. Automatic. 12 months MOT. Kitchen,CD Player, Electric Hook Up, 2 Burner Hob, Sink, Fridge. Electric Roof with mattress. Foldable Table. Tinted Windows. Blinds. Recent work includes replacing rear wheel arches. Welding of the outer & inner sills and rear crossmember. New radiator. All ready to roll for summer.
£4995
Call 07882 458707 or email carolynswann@rocketmail.com (nr Dunmow, Essex) for more info and pictures. No canvassers.
06/03/17: Selling our beloved, excellent condition inside and out for the year. MOT Due August, 89k miles, 2003 Mazda Bongo Friendee Aero, 2.0L petrol, Automatic, Air con, Power steering, Fully converted camper, Double bed, Air bags, central locking, Immobiliser, Alloys, Electric windows and blinds, 2 x standard plugs, Leisure battery, Electric hook up point.  No canvassers.
£8,700 ono
Location: Crowborough, Sussex. 07736 697716
03/03/17 Non-Member Sale: 1999 Facelift Model Mazda Bongo Autofree Top, Petrol 2.0L Automatic, 69,000 miles, MOT (Mar 17) & Service (Apr 16), Outback Rear Conversion (2015 – Northstar conversions), Electric HookUp, leisure battery, top loading compressor fridge, 2 hob gas burner & sink, blue vinyl floor, LED lights, outside table rail
Price: £7,995 ono
Contact: Sarah 07876562671 Email: smead2000@gmail.com (Winchester, Hants)
Trade Vehicles
Bongo Interiors
16/03/17 (Trade Ad): "Have had the Passenger Swivel Seat fitted today by New Dawn Conversions. Excellent work! All done inside 90 minutes and the finished article looks like it has always been there. Going to make so much difference when out camping next season. Thank you so much. For anyone considering the same work – don't wait, give these guys a call today!" (Genuine Customer Feedback)
Contact us now for the best rates. Passenger seat only, or both front seats. Or visit us at the Bongo Bash (booking advised)!
Website: New Dawn Conversions Tel: 07850870145 Email sales@newdawnconversions.co.uk (West Mids)
Camping Accessories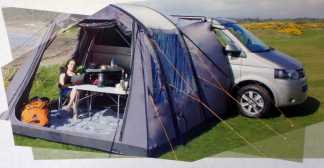 06/03/17 TRADE AD: 7 Plus Motors are now proud stockists of the market-leader awning specialist, Vango! We can now provide your Bongo or camper with an updated range of drive-away awnings, to offer you the convenience of having additional space for living, sleeping or storage. The models offer convenient free-standing structures that can be quickly attached to your vehicle, or detached, for a quick getaway!
Contact Charlie at 7 Plus Motors for more information: Tel: 07768 498377. Email: sevenplusmotors@outlook.com(Plymouth)
Other Bongo Bits
08/03/17 ITEMS NOW SOLD: 4 x MX8 rims with tyres off of a Mazda Bongo. Bongo has since died so tyres & rims must go. Tyres are only a couple of months old, low profile. Tyres alone were £72 each when purchased. All tyres are in like new condition. Rims in overall good condition but not perfect. £250 for all, will not separate.
Contact: Greg Lee 07496 048757 or email leespreservation (at) gmail (dot) com
Non-Bongo Stuff
Breaking Bongos
Dismantling all Bongos 1995 to 2004. Full mail order service available. No part too large or small. 10% Discount to all Club Members .
Click here for details.
Servicing
Breakdown Insurance
2gether motor breakdown covers all cars, vans, motorcycles and motorhomes including campervans up to 3500 kg GVW and not exceeding 27feet. 2gether can offer a bespoke solution if you fall out of this criteria. UK and European options available. Click here for further details.
Other Trade Adverts
Hire a Bongo
We hire out Bongo Campervans with both full side conversions (2) and one rear conversion. We are based in Shoreham By Sea near Brighton. Included in your Hire is : Unlimited Mileage, hook-up cable, hob, fridge, all cooking utensils, cutlery and crockery.
Check our website out here or email us with any questions at nicky@bongoagogo.co.uk
Welcome to our Camper Hire Section! Our new fleet consists of
Mazda Bongo 2.5td AFT Elevating Roof, 8 seats,
Toyota Granvia-Hardtop-Full Camper, 2 and 4wd,
Rugged Trails, Hard Top DELICA, 4wd
Click here for more details. In first instance please send an email to hire@jalimports.co.uk and we will send prices and fleet photos.
How To Advertise